it was just on and i was like damn ! That is my car! I got the import fighter front, same suspension, and im getting the rsm blower. I dont understand what problem they had with the suspension, all you need is 99 front mounts- problem solved. They didnt seem to know anything about a cavalier anyway, That one guy was like 150hp what am I supposed to do with that? I'm glad RSM could point them in the right direction cause they seemed pretty helpless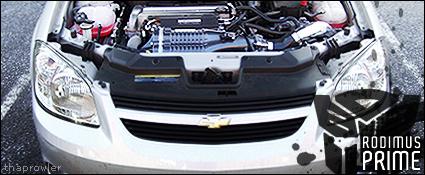 1989 Turbo Trans Am #82, 2007 Cobalt SS G85
Craig Lewis wrote:

It was for sale way back. Just after the show...for 17000 CDN.
I can believe that they let that guy sale is car!!!!

do they have agreement sign off for at lease a local event or parts show or else? From my side I like that show, it not the big USA buck.
But it a start, here in CANADA we don't have I think the facilities off they do in the states( population market), we are only a smaller majority in the tuning business, ( don't forget we are struggle with tax and exchange) and I'm from Quebec I know what I'm talking about...., but we are getting bigger with those show that keep us inform and dreaming.
I hope I will be chosen for there show, I did in fact register to there level 1membership and believe me
I WILL NOT SALE MY J AFTER !!!!!
instead I will proudly bring it in nice event like the
GM SMALL CAR SHOW 2005

Club J-Body Delta of Quebec
, Montreal Division Event Planner
My Car Domain
Mon Char.Com
TT is better than PMR. At least on TT, they're not trying to ghetto everything up. They're actually trying to do stuff that has some practicality, and not putting a damn cappucino machine in the console.
However, both shows suck. The TT guys are just a bunch of egomaniacs that don't care for anything but Hondas.
The guy that owned the Cav was a cop, and he said he didn't want anything that was illegal or over the top, cuz his buddies would rag on him. My guess is, he's selling it cuz his cop buddies made fun of him. Maybe someone should take Karo's video to show them. That'll shut em up.
Your right, le franšais is my native language, so I'm sorry about my English
Like we say up here: I DON'T SPEAK ENGLISH TO MUCH BUT I FRENCH VERY WELL!!!!
Club J-Body Delta of Quebec
, Montreal Division Event Planner
My Car Domain
Mon Char.Com