anyone know who owns gary oxleys old cavy? it was for sale at one time..........was wondering where it is now.
ClassGlass / RkSport / Eibach / Motegi / Ractive / Borla / K&N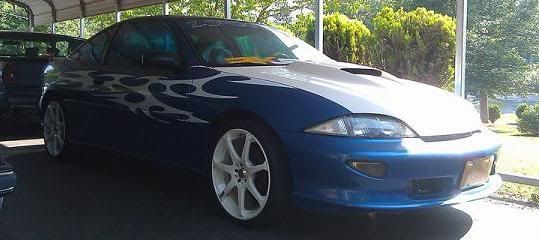 I think that Chad Guy sold it to One of Oxley's Neighbors last i heard (Chad is the guy that bought Laverty's car) After Chad had it it was pretty beat up Especially that front bumper
I may be wrong but this is what i last heard
West Virgina J-bodies
For a great deal on all your jbody needs
Visit
Tabasco Racing
when chad bought the car there was major wiring problems. he tried hiding the wiring but when the dash was pulled, 50 ft of wiring just fell out. a reputable A1 body shop owner by the name of tom pauley tried working on it. keep in mind, tom has done this kind of work since he's been able to walk I do believe. he remarked that he's seen foreign road maps that were easily figured out. I know because I work with Tom. I've never seen such shotty wiring. there was no body damage to be seen. I do know that it sat more than he drove it. I don't know who he sold it to but, he took a big lose. I wouldn't have paid $500.00 for it. it looked good but that's all.

Randell Price wrote:

there was no body damage to be seen.
I personally, along with Cheeter, saw that car after Oxley sold it and the front bumper WAS beat up. It was obvious because it looked like he used big band-aids to cover the cracks...
We went to get my RHD parts and met up with Pauley afterwards... The car was sitting in the parking lot of the mall there and looked pretty rough.
Yes Mr Price, you or your son must have beat the @!#$ out of that car. There were pics all over the org. Now your son is trying to take credit for Laverty's car, which he doesn't know jack about. You may want to change some things on that auction before he gets himself in trouble for falsely reporting mileage and title status of a vehicle.
Ranlee25 wrote:

The only thing I can say is, WOW. You guys are really into this. I just joined and now I'm sorry I did. So what if the guy wants to sell "his" car. Can't you just leave it at that? I checked out the car he listed and I saw nothing that suggested he did it himself. God forbid me to purchase a car from someone everyone seems to know and put it up for sale. I really don't get it. The obsenities thrown at this guy is very disrespectable, no matter what the case may be. I think he has every right to counterpost his comments. What is it with this money deal? 90% of these postings referred to him as using his parents money. I don't know this guy but I'd get all the facts before I'd throw accusations I wasn't sure of. The name calling is a disgrace to this site. Leave the guy alone and let him do his thing. Attacking this guy the way you have, I'd post my comments also, as everyone on here would probably do. I noticed that he's from WV, east coast, and most of you live many states away. Do you actually know him well enough to literally threaten him as putting your height & weight on your post. Needless to say, size is not an issue. I had no idea that this is what the forum was all about.
Wow. Like father like son, I guess.