if you want good fuel mileage, find a Volkswagen Rabbit Mk1 with a 1.9 diesel and a manual transmission. 55+ mpg
R.I.P. JessE Gerard 7.11.87 - 1.25.08
The Radiation Nation
Facebook
Twitter
Twisted Metal Alliance
TheSundownFire (GME Chat) wrote:

Red Diesel has a higher sulfur content.

The PPM of Sulfur in red diesel is above the EPA regulated level for automobile use. Just like any other EPA law it comes with a heavy fine.

Ive also been reading that red diesel is taxed differently than automotive fuel so its a little bit of both but not just the govt out to screw everyone over.
Red Diesel isn't taxed.
A lot of times it's just referred to as "Farm Diesel" around here.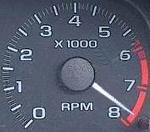 i find it amusing that SHOoff has nothing better to do but follow me around & be an unhelpful dick in even cross-forum. - Jon Mick
Ive seen a two cylinder diesel generator engine in a ford festiva with a little customization to the bell housing of the original trans it had some get up and go