$218/month for my 02 cav, 02 avalanche, and 05 mustang gt. full coverage on all 3
DSMskyline wrote:

Minimum 2 mil liability? Thats insane!

Here in the states, most companys highest coverage is $100,000-300,000.
I thought some companies do 500k and 1 mil aswell here, there was a $4 differance per month to go with the 2 mil over 1 mil so I figured why not. They wanted an extra 1500/year for full coverage though, car only cost 2400 so figured after 18 months or so, I made my money back anyways so was not worth it for me.
2000 Cavalier Z24 5spd - Intake, Dynomax muffler, Hawk Pads, Powerslot rotors, Sportlines/Koni reds, Neon Coil, MSD 8.5 Wires - **SOLD**
2014 Kia Forte Koup SX 6spd - 1.6L Turbo - My new car
2015 Kia Sorento EX V6 AWD - Wifes Car
i just switched mine,i was paying 88 a month for liability with uninsured motorist..now i pay 58 with a new company..im only 22 iv had 1 accident back in 07 but its been dropped

00z and 98 z vert full coverage incl glass towing etc 300k/1m coverage and i come in around 200/mo. i could go lower but we have a lot of them illegal types around here and got forbid they have some coronas and step out in front of me...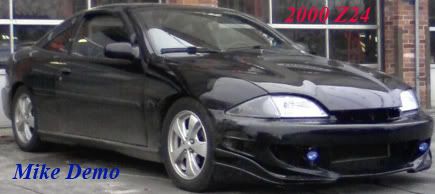 69 a month for a 200 buck collision deductable and 100 on comprehensive... 89 total if u count the extra life insurance policy I added on there...
Ya I can't wait to see what it'll be when I ask how much it is to zero my deducables =)... it was a 5 dollar difference between goin from 1000 deductable to 200 lol
http://www.motortopia.com/cavyfreak442/cars
Best ET to Date: 14.251 @ 98.51 mph. 13's or Bust Baby!