had to drop off my friend off in Alabama from Michigan i drove an avg of 80 mph so 75-95 mph and was surprised with getting 31 mpg! for a 2000 cavalier 3 speed auto on a 211,600 mile car.... i thought for sure i would get like 25 mpg because of 3 speed auto... did snag a few backed up traffic i am sure it killed my mileage for a little bit.. so i thought it was pretty good mileage for the high speed... with the regal gs that i had if i baby it and use cruise at 70 mph i would hit 31-32 mpg...i remember i would avg 23-25 with the regal at avg of 80 mph...i know jetta diesel can hit 45-50 mpg at 80 mph wished i had that kind of mileage! lol
top left to right top
RPM 3443 inst mpg 31.4
tps 26.6% middle avg mpg 27.6
fuel lev 11.5 dte 318.7
this was at 80 mph with the cavalier in wolf pack i am very happy with it i love the new gauge
2000 base cavalier 3 speed auto at 212,100 as of 1/24/12
2000 Buick regal gs (Supercharged) 150,000 miles
http://s314.photobucket.com/albums/ll430/crossout80/?albumview=slideshow
My 2.2 always seemed to have a sweet spot right about 83mph.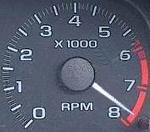 i find it amusing that SHOoff has nothing better to do but follow me around & be an unhelpful dick in even cross-forum. - Jon Mick
49.2 to 24.6 mpg. I seem to do best at about 70 mph on a flat highway in Sasketchewan which is where I got the 49.2. The 24.6 is all city driving in the winter. .

1993 Chevrolet Cavalier Coupe
2.2 Liter, 5-Speed
Unmolested except for a new CD/MP3 Player

Sweet spot in my 98 2.2 5 speed is about 65. I will see.damn near 40.
The 05 2.2 turbo rarely sees 20 lol

cool glad to see some of you guys are getting pretty good mileage this is on winter gas so you all know we get less mileage... people keep saying the cars in the 80's have better mileage and yeah of course the gas back then was not messed with like now days with bunch of add ons in our gas today
2000 base cavalier 3 speed auto at 212,100 as of 1/24/12
2000 Buick regal gs (Supercharged) 150,000 miles
http://s314.photobucket.com/albums/ll430/crossout80/?albumview=slideshow
I just did a 1200+ mile round trip, Tampa bay FL, to upstate SC and back. Running between 75-80. Averaged 30.81 MPG. Car is a an 04 Cav LS Sport 4 door, automatic, 148,000 miles.
_________________________________________________________________
Looking for something new? How about an off topic forum where you can truly express your opinions without interference of mods or admins?
Join verbalwarfare.com
http://www.verbalwarfare.com/forum.php?referrerid=86
i have an 00 sedan auto with an eco in it and i got 750km to a tank goin to school thats doin 95 in an 80 and 115 in a 100 usually in ontario if your around 15 over they leave you alone did this for 7weeks 300km a day beat s my 3800 z24 i had it the first week and i only got 525 to a tank mind you it was more fun to drive

i keep that car in my driveway i still have 2 terms of school so i kept it




JBO since July 30, 2001

been in the cobalt. not sure i see where the upgrades were. now the cruze. seems gm had a better compact in the 90's, which is ironic because most of the other compacts were built better. all teh j had was power.