I have a ln2 circle track car and i am going to install aftermarket temp and oil pressure gauges. Can i just remove the factory sensors and install the new ones for the guages or do i need to T the origional ones back in with the guages?

the oil pressure is just for the dummy light, but the coolant temp (I assume your talking coolant anyway) is needed by the computer to turn the cooling fan on and a few other things I think, so T that one if you wish, and you can just switch out the oil pressure gauge, and I think you can fool the dummy light in the dash or deal with it if you don't mind it, or put the T in pressure too, it won't matter as much there.


Have a nice day.

I thought if that dummy light stays on too long the car shuts off as a safety so you don't seize the engine even though by the time it shuts off it is already done fore. I could have sworn they shut the fuel pump off. Most cars will not start with it unplugged.
You can get adapters for the return line to the radiator for coolant temp, and get a sandwich adapter for the oil filter. That is what I am using. Then you also have two extra ports to tap in for a turbo setup or test port.
http://www.glowshiftdirect.com/search.aspx?find=adapter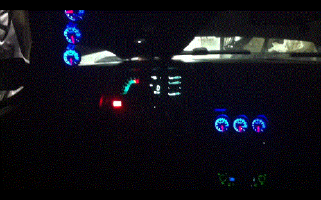 On the inside my car looks like a fighter jet.
I thought the same thing but the jbody isn't that way as far as I have seen. I've seen them run for ever with the light on which would mean the pcm is seeing no oil pressure.