Good morning,

This is a "newbie" question, but something I need to know. I am installing a 2004 2.2L ecotec into a VW Bus. We purchased the engine from a wrecked car at a body shop. My question is : which way does the water flow? From the water neck to the top of the head, or from the top to the the lower inlet. I know its a newbie question, but to me, the water would flow FROM the water neck to the head, since that is where the thermostat is located, and cool water flowing over the head first makes sense. That said, the water neck/thermostat is located lower on the engine that the inlet, which in the old days, didn't makes sense. I have had two 'reputable" mechanics tell me two oposing answers. I appreciate any help.

Mike

The thermostat isn't at the top of the head.. even though it looks like it. It's located by the water pump at the back of the engine.

Flows out on the Trans side.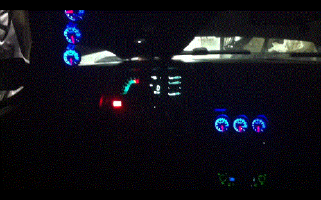 On the inside my car looks like a fighter jet.
Water exits bottom of radiator and enters waterneck/thermostat housing on back of block, and exits the head back into the top of radiator.

Thanks EVILution, exactly what I needed.
Mike

Again, thanks for the information. But now I have more questions. If the water flows into the engine at the water neck, (fly wheel side), what should the water temp be at this point? I have the following aftermarket water neck for a custom install:
http://www.turnkeyenginesupply.com/ecotec-billet-water-neck/
The fan relay sensor, and the water temp gauge sensor are on the "inlet side", so would be reading the water temp as it enters the engine rather than temps in or coming out? I believe you, but it seems counter intuitive. Sorry to sound so confused, but I am an Air-cooled guy, so this is new territory for me. Your thoughts?
Thanks again.
Mike
Basically, you're right, it is not an effective setup IMO. I know in some later models, LSJ for sure, the temp sensor was relocated to the top of the head directly in front of the water outlet, I'd guess for the exact reason you stated.
As for what the temps should be at the sensor/inlet, I couldn't tell you. The system does what it needs to so I never bothered to look beyond.
I always thought the reverse flow style (like the LT1 for example) was more effective since the coolest water would circulate around the combustion chambers first, but then you're talking a motor intended for a higher power and the resulting heat.
Guess GM figured this was sufficient for an econobox?

I agree with you, it would seem to me that cool water flowing in over the heads first would make more sense, but these are pretty bullet proof engines, so someone must have figured it out. I am going to look at placing my temp gauge sensor in the bleeder on top of the water pipe on the pulley side, just so I can have a decent temp reading for my piece of mind. I will leave the fan relay sensor where it is and see how it works. We are in AZ, so cooling is always a problem. I have not added a thermostat to the system yet. The aftermarket water neck I used does not have a place to fit it. these are mostly used in off-road applications, but I needed the room. I will need to add an inline unit if I need one. I have been told this will help cooling since it will give the rad time to cool the water? Does that make any sense to you? And now that you have enlightened me, I assume I need to add it to the inlet side (flywheel side). I had intended to go without a thermostat. Your thoughts? Thanks again for all of the help.
Mike