So I have a 1998 Cavalier Z24 and the low beam headlights aren't working properly. I have checked the bulb socket for power, I do get power. I take the bulbs out and the dash light comes on for them. I tried putting in other bulbs but I am not sure if they work because I just found them laying around. My next option is a cheap set of bulbs at some auto store for $10. Just payed my phone bill so don't have the money so it's really killing me. I am also 16 so that explains the money problem. I have read around forums and I do not think it's the harness because it looks ok and the sockets get full power. Maybe it's the switch on the column it's self I don't know. Just thought I would post this to get some other ideas.

If there is power at the socket, the bulb is bad. Buy a new one.
The problem with the harness is not on the power side, it is usually on the ground side. Check your grounds. Having spent 8 years in Chevrolet garages, I can't tell you how many harnesses I replaced due to a corroded ground or a bad ground splice. And even then, you could do an impedance test on all the wires in the harness and it read out ok, but when power is applied, things change. The current your multimeter puts through the wire is very minimal, however with your lights on, and the current demand increases. I recommend removing the harness from the vehicle and meticulously check all the splices in the harness. If you find a corroded splice, I recommend using weather seal or heat shrink splice connectors to prevent later corrosion. Also, when cutting out a corroded section of wire, keep in mind that because you can't see it doesn't mean its not there. Corrosion will travel up the wire under the insulation where it is not visible.
Another problem you may be having is a bad DRL relay. Try changing that out with a new or known good relay. Chances are slim that this is your problem and more likely a corroded ground as I explained earlier.
Changing out the forward light harness isn't difficult. Finding the bad ground splice is. What is worse is a new $700+ forward harness assembly. Good luck and please let me know what you found.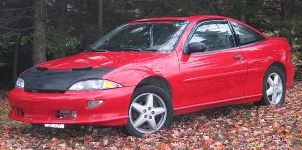 Some people have brain storms, others light drizzles. And then there are those that have droughts.