A friend just called me with a fuel related question. He has an 04 Cav, all bone stock. He was at the gas pump and noticed that the station he was at offered E-20, E-30, and E-85 fuels, along with your regular fuels (87, 89, and 92 octane. He asked what is safe or recommended to run in his Cav. I know that his being the stripped down, bare bones model, that the owners manual requires nothing more than 87 octane. He wants to know how safe it would be to run any of the ethanol blends through his engine and fuel system. Any feedback I can get would be greatly appreciated. Thanks.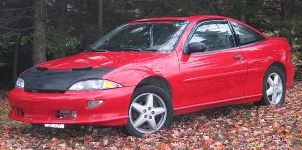 Some people have brain storms, others light drizzles. And then there are those that have droughts.
These cars aren't equipped with flex fuel so the pcm can't really accommodate for the changes nor is the fuel system built to withstand ethanol. You could probably get away with E20 or E30 but I would suggest just sticking with E10 (which is what most gas at the pump is now) or regular old gasoline.
"In Oldskool we trust"
I would run E10 / 87 or 89. Our stock PCMs can not adjust the fuel for anything over E10....and really....the older cavaliers AFR isn't even programmed for E10 that is all all pumps now.
If you could tune for e85 and then did tune for it you'd need bigger injectors and fuel pump anyhow so the "compatibility " sorta works it self out.

However, if you tune for it it's ALL you can run cause the PCM can't adjust very far.

Unless it's way cheaper than 87, I wouldn't. I run it in my car and mileage dropped a bit. Granted I'm running it for other reasons.




"A car just isn't a car without a little blood, sweat, and beers." -- Shadowfire

Mmmmm..... E85..... yummy!


Currently #4 in Ecotec Forced Induction horsepower ratings. 505.8 WHP 414WTQ!!!
Currently 6th quickest Ecotec on the .org -12.453 @ 116.45 MPH!!!
I wish I had the option to run E85 in my area

REAL GAS is the only thing I'll run.
It's locally available at only 10% over the E10 crap.

I thought I read on wiki that all gas in the US is gasohol - gas with little ethonol mixed.

I only buy 93. If it's out of stock I get 89. They say its cleaner so I reccomend it. That's just what I choose, and will continue to buy. I don't know what years computers register best with x fuel.