I am looking at a cheap vehicle as a commuter. After seeing the ridiculous high prices of high milage beat up Hondas and Toyotas, I was brought back to my past.

My first car I ever owned was a 1988 Cav, 2.2 OHV with 85K. Bought it in 1995 for $2500. I put another 80K on it until the radiator blew and I let it overheat...mistake I will not make again. Anyhow, it had its issues, but the drive train was always strong, but burned a qt. of oil between changes. I just kept up with oil level. When I run the math on this car, it was the cheapest I ever owned an operated hands down especially after I went over to the import world of cars. I am now reconsidering a Cav for my new 66 mile round trip commute.

I just looked at a 2002, 2.2 OHV, with AT and 100K miles recently. Asking price $1500. Engine and tranny just purred. Better sounding than my '88 ever was. I surprised how nice an OHV could sound. Guess things have improved?

The owner claimed regular oil changes and I believe him, but I don't think regular tranny flushes or coolant flushes were done. I could not get a straight answer on that one. He is the third owner and had a short commute so low miles and claims 30+MPG. He has been listing it for two months now. His mother owned it before hand. It has damage to one of the front fenders that needs replacing, has warped brake rotors, and that is all the problems I could see. Oil looked good with no coolant in it. Had the Dexcool antifreeze in it, so I don't know if that was factory or replaced. Tires with majority life left. It is very tempting. If I did get it, I would go through with a tune up and replace cooling system including radiator, hoses and water pump, t-stat, as that stuff failing killed my old Cavalier. This would be for a preventative measure. No problem to do it all myself at my buddies shop with a lift. I would change all fluids including tranny fluid. New rotors and pads and I estimate about $500-$600 of parts. Worse case, the tranny dies (it operated smoothly and would go into gear nicely Forward and Reverse with no hesitation) I would have to replace that.

I hope to get another decent 75K miles out of it. So, has anyone bought an old Cavalier like this? What was your experience?

I live on the west coast, and people here adore their imports and are proud of their old tired ones, so that is why I though domestic would be a good buy as their values drop. I think these J-cars can go a while and are good basic transportation, point A to point B. So, do I have doubts or put some faith in this one? Would be nice to get something and stop looking as it takes a lot of time. In the meantime, I a commuting in a mini-van. Nice ride, but no so great gas mileage at around 18-19MPG. Not in a rush...

That motor if taken care of will run for a long time.
I would say with cash you could probably get it for 1200.
I wouldn't change the radiator and hoses unless they appear bad, but do a coolant flush, tstat, basic tune up and go.
FU Tuning
I would say go for it. way more reliable and easy to maintain than my infiniti (which is why I am loving my 90 z24 w 3500 more than my 08 g35) for what you are looking for it is perfect. plenty of unpicked cars in the junk yard too unlike the hondas.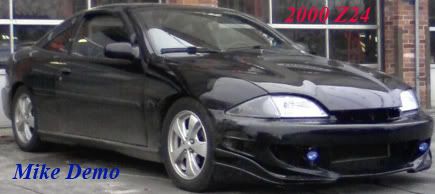 I bought an '01 two door Cav a year ago with about 80k miles. I picked it up for $3500 at one of our local dealerships where it had been gone through and checked. It's an automatic which I really don't mind. But that car has been so dependable! My commute is 46 miles of mostly freeway in the San Diego area. I keep track of the fuel consumption and have been surprised. The Cavalier typically gets 28mpg. I did have one tank that got me 31mpg. The car is a base model so no tachometer. I keep the speed at around 70mph and it car just purrs along. I forgot to mention that it is that 2.2OHV engine which is as trouble free as can be. I was pleasantly surprised to find that there is no timing belt. The only thing that has been frustrating is the dash plastics. Soon after the purchase, the plastic around the glove box started cracking. It got to a point where the glove box door just fell off. The a/c compressor died about six months after the purchase due to a failing clutch. I suppose that's to be expected for a 14 year old compressor. I'll get it replaced but for now I just bypassed it with a serpentine belt for a non a/c car. The fan and ventilation are so good in the Cav that I only miss the a/c on the warmest of days. I would rather have this car than a Honda any day!

Thanks for the input guys. I thing these cars are underestimated....if you realize what they are for, they serve their purposes.

The car price has been lowered to $1300 as I have just sat around and waited on it. Maybe I could talk him down to $1100?