Greetings All,
Just bought (locally) a 1987 Cavalier RS convertible 2.8L 5speed manual . Purchased for a friend of mine in AZ but he's still trying to convince the wifey to let him have it. It's a nostalgic car, his father had one and he learned how to drive in this vehicle. If he doesn't take it and I wind up with it I'm just wondering what I should do with it. It runs then dies, so I'm going to go through the fuel system first and also do a tune up to it. I have no doubt I can get it running. Will also check brakes etc and get it more or less road worthy. It's a 108K car. Previous owner provided spreadsheets with maintenance records. The underside of the car is SOLID. Floor pans, trunk, all drip edges etc all in great condition. The body itself needs work; light hit to the front/left door, some rust on rear quarters and overall below average body. (emblems shot, front bumper cover shot, convertible operational but top probs not salvageable etc)
Would appreciate some opinions on what I should (might) do with it. EG off-load it, get it road worthy and sell, part it out, scrap it, restore it etc. These cars don't seem collectible or desirable. If anyone wanted it I assume it would be like my friend; because they had one or have driven one and just have the itch to own one of their own. I like it but don't love it. That said when I went online (google/craigslist/ebay) I couldn't find another first gen/RS/convertible/2.8/5MT for sale anywhere. Found some Z24's (second Gen mostly) and lots of 4 door RS's. Lots of autos as well. So, I don't know what to do with it or what to ask for it if I wind up taking ownership. Opinions appreciated!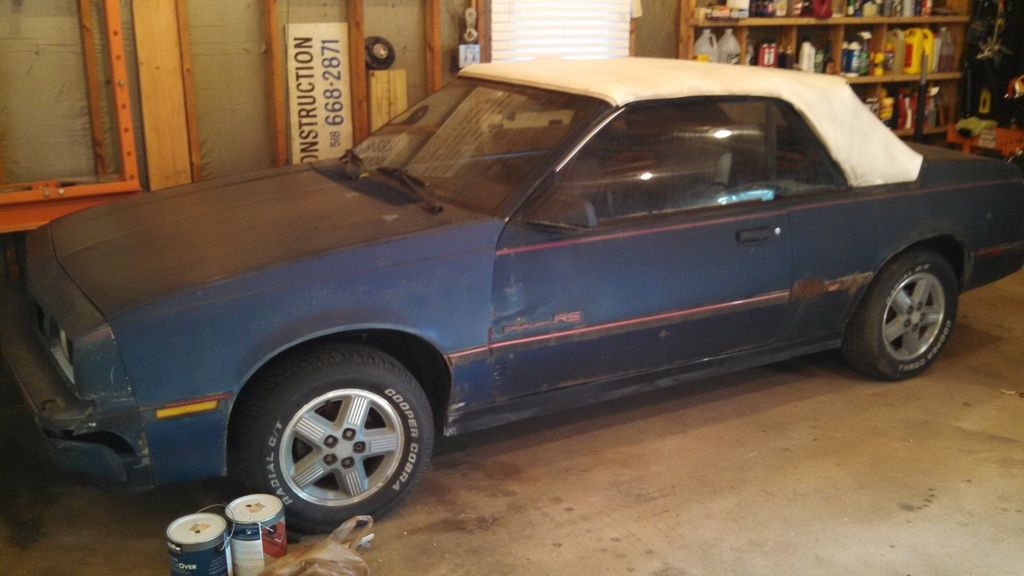 sorry for the weird title. I haven't figured out how to fix it yet

Could be a cool car, not many people would want it. My first car was almost a 87 Z24. So I have a small liking for them.
Fix it.
FU Tuning
I will not go into my opinion on a lot tonight.Long day and tired.But I will say finding a year model Like this with a 5spd manual is like (gold) as this are mega rare option wise!!! As the pic seen I can't give you a honest as it sits price.I would like to see at least one picture of the engine bay and big shot of the interior to give a true value as it sits.These cars if redone the right way can bring decent money if refreshed.Done for now.I am a 1st gen owner and while the car looks kinda rough it just has real potential to be brought back.R