So I really wanted a tach in my car (I got a Cav without one). I tried a SunPro Super Tach II (even bought the adapter for it) and it didn't work right. I got a replacement tach and it worked a little better but I'm sure the adapter was faulty. So I sent everything back and went about looking for a cheap cluster with the tach.
Chuck sent me a message after seeing my thread on my tach woes, telling me he had a 100% functional instrument cluster and it was mine for $85, shipping included. I couldn't pass that up. My odometer wasn't legible unless you jammed your finger onto the plastic cover over it or shoved in the odometer toggle switch, one of the lights behind the speedometer was out, and it would only cost 10 bucks more than the SunPro ordeal cost me. Done.
The Before:
It took me a few days to get the money ready (stupid Advance Auto taking forever and a day to refund to my debit account), and Chuck was patient and upon my request to hold onto it for me, did so. Upon payment (which was relatively late at night), he sent me a message saying he got it and brought it to FedEx for delivery the next morning (10:52am according to their website). He then sent me a message with the tracking number.
Two short days later and the time it took me to actually break through FedEx's invincible bundle of forty-seven layers of bubble wrap, a thick plastic bag, and foam peanuts, I had my cluster in hand at 4 in the afternoon.
I hastily began to tear apart my dash to put the thing in. A short while later...
The Result:
Completely functional and much brighter than my old cluster. My only complaints (and I tried really hard to find some because it was too good to be true) are a very slight blemish behind the clear plastic, and the tach needle being a little twitchy and a tad sluggish (which is probably mostly because of the ECU sending the RPMs instead of a dedicated sender, but I did notice it was a little slower than my grandfather's '03 Cav). Doesn't even matter for 85 bucks. If it really bothers me enough, I can send it out to be fixed with a warranty and still have it be cheaper than the clusters on eBay.
Thank you very much, Chuck. I get excited when I have to drive somewhere just because I get to look at perfect gauges. I haven't been that excited to drive the Crapalier since I got it almost 5 years ago. I would absolutely buy from you again given the chance.
Oh,
and
he sent me pics at my request, without hesitation and very quickly.
Glad to hear +1 for doing a seller review.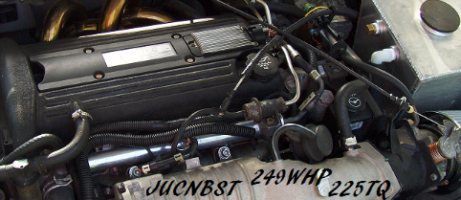 Chuck is the man, he's my boy so I would have to punch him if he had a bad review

Hi Chuck! LOL
~2014 New Z under the knife, same heart different body~
______________________
WHITECAVY no more
2012 numbers - 4SPD
AUTOMATIC!!
328 HP
306 TQ