I am located in the southern california area
and am curious if there are any clubs or meets
in my area, so far the only place that I have found any
other j-body owners that care about their cars
is at the street races (the illegal ones) in Ontario, CA .
If anybody knows anything I would really apreciate it
because I take pride in my car and respect other
people who do also.

sup dude im in palm springs hit me up if u get this anytime soon xz24cavalierx@aol.com
im in ventura area but cruise to socal and La all the time, i got a 04' cav, e-mail me peace

I live in the chula vista/ Imperial Beach area. me and two other J's. we are always down to meet. what's up for this weekend?

James, sorry i didn't get to you about last weekend i had some stuff going on. Hit me up and we'll hang out whenever you are ready.

Dude, I wish i lived in SoCal. Its like my dream I want to go to school. Are there any major shows out there that i can drive down to so check out for a weekend, just an excuse to get out lol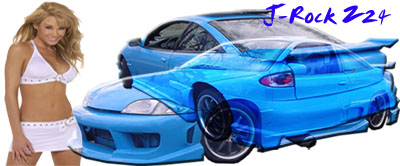 this weekend wont be good for me because I am in the navy and my ship is getting underway for two weeks. sorry