Hey JBO Guys!
Matt and I @ Teske Design are putting on this car show in conjunction with Russ Beaverton Scion here in the Portland Metro region. Matt said there's a big group of JBO guys somewhere here in Oregon that might wanna roll - so here's your personal invite! The show is open to ALL car makes, there's free food, awesome raffles, and amazing trophies! You know Matt doesn't disappoint when it comes to getting the big dogs to send awesome raffle prizes!

So far we've got over 50 vehicles pre-registered for the event and our goal is to have 100 cars there! Give the SRT-4's a run for their money and take home the Best Domestic trophy! Any questions, shoot Matt or I a PM or respond on the post!

OPEN TO ALL CAR MAKES!
DATE:
Saturday, December 8th
TIME:
12:00PM-6:00PM (Roll in starts @ 10:00AM)
LOCATION:
Beaverton Scion - 4300 SW Murray Blvd., Beaverton, OR
COST:
One *unwrapped* toy (worth $10+) or $10 cash
PRE-REGISTER:
Send NAME + VEHICLE MAKE/MODEL to registration@teskedesign.com
INDOOR SHOW!!
(First come first serve depending on attendance)
TROPHY CATEGORIES INCLUDE:
- MOST CHARITABLE TEAM (Team who brings the most gift donations!)
- Furthest Traveled
- Best of Show
- Best JDM
- Best Euro
- Best I.C.E.
- Best Domestic
- Best MILD Scion (1st, 2nd, 3rd)
- Best WILD Scion (1st, 2nd, 3rd)
- Best Toyota (1st, 2nd, 3rd)
- Best Honda/Acura
- Best Subaru
- Best Nissan/Infiniti
- Best Mitsubishi
- Title Sponsor CHOICE Award
- PLUS MORE!
JUDGING SHEET/CLASSIFICATIONS:
Judging is based on the NCCA 250 point scale
TONS OF GIVEAWAYS! VENDOR BOOTHS! TONS OF RAFFLES!
FREE FOOD & ENERGY DRINKS! LIVE DJ!
*** More info and official event flyer to come soon! ***
Dang it........ I really gotta get the Pontiac done and the Cav ain't in any shape to be showing right now. Here's another show I'm missing

Cross-posted to JBNW.org though.
possibly. the cavalier *should* be one color by then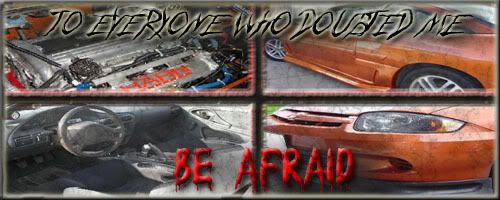 12.5@116 2.0 60ft