Invasion 09
Twiztid Allusions is back again. This time were doing it big! Come out and
join us August 29th & 30th at Coopers Sport Bowl in Anderson Indiana. Join
us early as we will be having special events planned throught the event.
We want you to bring your club as we have many group games planned. From
everything from club bowling to tug-a-war.
On site beer tent and food all sponsored by coopers sport bowl and shouts
sports pub. www.cooperssportbowl.com. $1.00 DRAFTS AND MIXED DRINKS ONSITE
The After party will be held right inside the bowling facility and Shouts
sports pub.
Their are several hotels right here as well... Motel 6 is the host hotel @
$35.99 a night.
$20 day of show.
Pre-reg $15 through paypal @ www.twiztidallusions.com or contact me for other
payment options.
all spectators are FREE
OTHER AREA FUN.. PUTT PUTT, GO CARTS, HORSE TRACK, ANDERSON SPEEDWAY, MOVIES, 2 STRIP CLUBS. ALL WITH MINUTES OF THIS EVENT!
Contact me for questions Ryan@twiztidallusions.com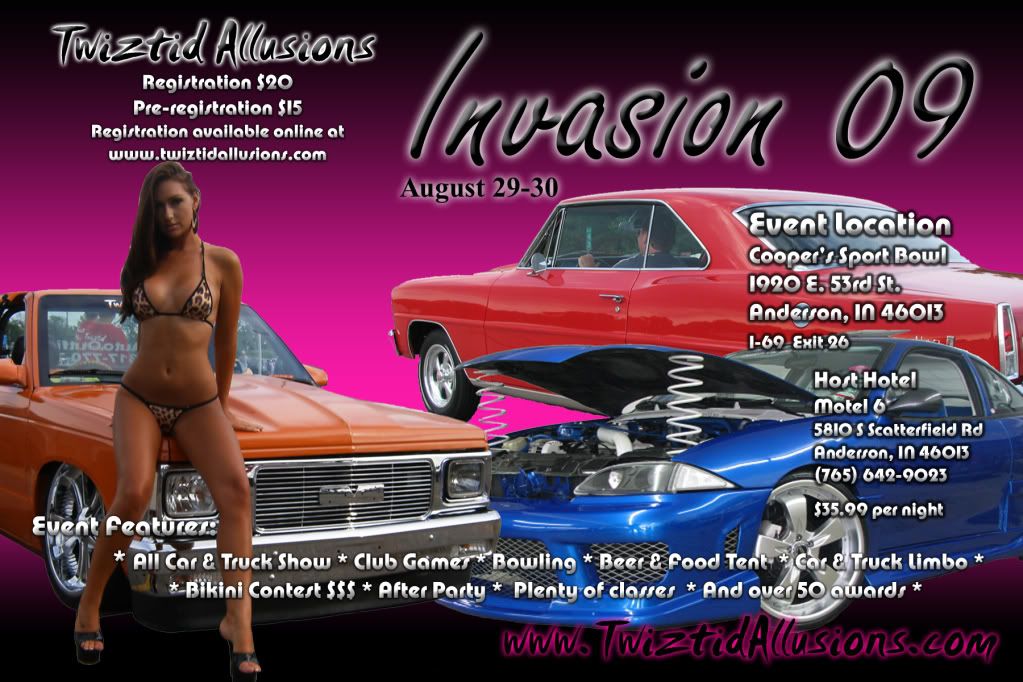 everyone should come just because i will be there

http://www.flickr.com/photos/sndsgood/
https://www.facebook.com/#!/Square1Photography
O you know I will be there! Hope some of you guys will to

I am gonna try, gotta talk to the gf!

http://www.cardomain.com/ride/2898349
GETTING READY FOR THE SHOW!!! headed out in the rain to go setup.... see you guys at the show!!
Derk... and immmmm OUT!