"STL" Official June 28th GM 4 Cylinder Meet!
For those of you wanting to meet up!!
Okay guys its that time again for another annual STL summer meet! The planning has been done and this is what will take place. So get excited and plan on taking off work in advance! It is always a great time! Just the cobaltss.net meets alone are huge 14-16 members each time. There are already 17 Cobaltss.net members alone attending and the meet is still alittle over a month away!!!!! This will easily have 30+ cars in attendance!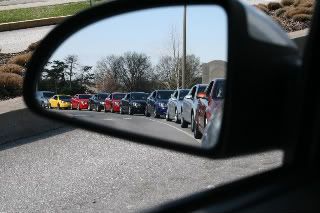 Meeting Location: St.louis Bentley Dealer in Chesterfield, MO
Address: One Arnage Boulevard, St. Louis, MO 63005
Meeting Time: 11:00am on June 28th( Sunday)
What To Bring:Burgers, Hot Dogs, soda, Chips, Charcoal, lighter fluid, matches etc..
Plans For The Day: We will meet at Bentley, wait for everyones arrival. Then we will hang out and talk for alittle bit. Take a cruise down 109 and through some backroads. we will wrap around and backtrack to Babler State Park and BBQ, take photos and just hang out for the rest of the day. It should be lots of fun and im excited to see everyone out again for this one! Other cars are welcome...
Please post up if you will be attending, we are getting a car count cause we are paying to reserve a spot at babler state park for the day!
Some forums this is posted on Hhrforums.net/Cobaltss.net/Redlineforums.com/Ionforums.net/gatewayjbody/sixthsphere/gatewayhhr/localcobalt/clubg5/
"Post Up If You Will Be Attending" and spread the word!
Any Questions just PM me
Thanks, Jake!
I'm there
Danny
2004 Sunburst Orange Cavalier
check it out here @ www.cardomain.com/id/orange04cavy
Okay everyone.....Everything is good to go for the meet! Chesterfield police know and i got the go ahead to be in the lot at the galaxy by the GM! See everyone there at 11:00. Me, Tim and Mike will be heading out and arriving early be everyones arrival!



Please make sure you get directions from the first page!!! My cell is 314-807-0163
Mikes is 314-413-9226, please call either of us if you get lost!

This will be held at the chesterfield galaxy movie theatre!!!!! Its right down the road from bentley!

A little late lol better get tne delorean


z28guy(KGM BEOTCH)