I am from Cleveland and I was thinking of going to Pittsburgh for a little vaca to see some friends and attractions. I was thinking that maybe we can get a little get together between the Cavys and Sunfires. Possibly for a day or 2, and I am just going to throw a date out there....July 27-28 or maybe another weekend you prefer. I know Binzer (from CC) lives down there so he will be coming too. Let me know if this works out for you guys/gals or not. And if you need hotel accomodations, I always go to Red Roof Inn in Washington County so maybe if there is enough of us, we may get a discount. Hopefully we can work something out!

Change of date...July 21-22. Any takers or maybe's?

I'd be up for it. It's always nice to meet other j enthusiasts. we haven't had any sort of get together in this area in a long time
DSmotorsports wrote:

I would travel for it.
Where abouts are you in Ohio?
Kent. 5 minutes from Summit Racing.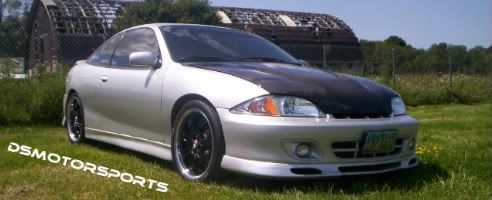 I <3 summit. I always go there right at 8:55, needless to say they all hate me.
I roll on steelies. Work-in-progress daily-sleeper potential.
http://www.j-body.org/classifieds/engine/60493/
Hate to say it guys but I am bailing out on this trip for the time being. My dumb ass neighbor backed into my car and my front end is cracked right down the middle. And my body is not able to work on it until another 2 weeks. But I am thinking that I will be coming down late August.