I have a 1985 Cavalier that I've owned for about a year. Without tearing the transmission out, I've been trying to hunt down a knocking noise.
Its not there at startup but starts after 10-15 seconds. Its noisier in park and neutral. It drive, it never gets noisier though its speed increases with engine RPM.
Have already replaced main and rod bearing. No change. I tried unplugging spark plugs and running it but there was no change after disconnecting one at a time.
With a hose, the noise seems to come from the lower oil pan or between the engine and transmission. I'm guessing its wrist pin for the 1st drivers side cylinder, crankshaft bearing at end of block (not a main/rod) or a cracked flex plate.
The car drives normally other than some heavy clunking shifting gears that I've attributed to work mounts.
I apologize for all the leaks, etc. No point in fixing until I can diagnose this issue. I am not currently driving it.
I do need to note it drove 100 miles to my house after I bought it (told original owners if it'd make it, I'd buy it) with the noise. No change.
https://youtu.be/ZVscFoDcGak
1987 Chevrolet Cavalier RS Hatchback
2.0L I4 TBI OHV
Sounds like noisy lifters to me
Pretty common issue on these engines
I have a similar noise (not as loud)
Itís worse when it is cold outside.
You can try to adjust the valves or put some miracle in a bottle in, but ultimately, the only real way to fix this is to change the lifters...
~ Mike ~
Do you mean the lifters on the back side of the motor? I haven't considered that. Unfortunately hydraulic lifters I'm not too knowledgeable on. Never had to mess with them on my other cars. Will definitely read up on it tonight!


1987 Chevrolet Cavalier RS Hatchback
2.0L I4 TBI OHV

You may be right...
... skipping in my video to this:
https://youtu.be/ZVscFoDcGak?t=45s
... sounds just like this one...
https://youtu.be/28IRZ9l2MCE?t=36s
Obviously that's a different engine... but the rhythm/tap is almost spot on and they claim lifter noise as well.
In all honesty, I was prepared to drop another motor in it but had problems actually finding a decent one. A cylinder head would be much easier to source...
1987 Chevrolet Cavalier RS Hatchback
2.0L I4 TBI OHV
I had a reply to the YouTube video suspecting the flex plate. It is loudest at the inspection cover but I couldn't find any loose bolts, cracks, etc. when I inspected it with a USB camera.

I know sound can travel throughout an engine and felt maybe I was just being delusional; wanting the cheaper solution to the problem.

For now, my mechanic is getting a quote for a rebuild. If they find a cracked flex plate while its being pulled, they'll stop there.

I'll certainly update this if I figure out the cause of the noise. Hopefully save someone else the trouble.


1987 Chevrolet Cavalier RS Hatchback
2.0L I4 TBI OHV

I would check the dipstick tube to make sure it is not hitting the crank. Had this happen a few times. Also check the torque converter bolts. Since it's a gm you can actually unbolt the torque converter and eliminate any flex plate/ torque converter/ trans noise.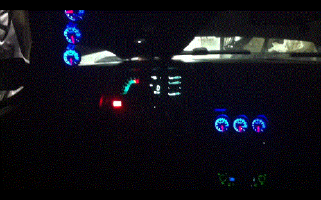 On the inside my car looks like a fighter jet.