Hey wuz up guys. I have a question I have a 2000 z24 and my problem is that every time I steep on it. My car smells like egg and I just notice that I lost some power.My car has 68k I change the oil every 2k miles. Please help me out. Thanks

I have heard of this prolem before and every time it has been something with the catalytic converter. Check that out and see if that is it.

Thanks bro. From what I heard My car has a new catalytic converter What causes them to smell like @!#$

The smell generally comes from sulfur in the gas. Sulfur is a natural part of crude oil, some more than others. It costs the oil companies money to refine it out to a level specified by the government. I believe that they simply have to "average" at or below that level over a period of time, which may allow for higher or lower than usual concentrations from time to time. If your car is used for shorter trips where the catalyst doesn't get a chance to fully warm up, it may develop more unburnt fuel in it than usual. When you step on it, the catalyst is rapidly heated - burning off this excess fuel, and the sulfur with it. It used to be more of a problem with GM's older "pellet bed" converters, but can still be an issue at times. I think that we just notice it more now that most cars emit such "cleaner" exhaust on a regular basis.
An overly rich mixture can add to the problem, so you may just want to check the PCM for any potential codes relating to that. In reality though, I'd just try another brand of gas next time and see what happens.

Im going to follow youre advice john thanks

maybe you get all anxious when you step on it...the side affects of this syndrome might cause bowel contractions which may force unwanted flatulants out your rear...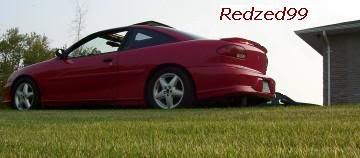 yea ever since i put on my new exhaust when i floor it i can smell a weird smell but i was told that is just the insides of the exhaust burning off, like the coating and some glue-like stuff thats inside the exhaust, it should go away over time


wikkymaster <<-

check out my blogs!
Gov't Auto Auction

How I Stopped Smoking

Easy online cash

UNLIMITED streaming online movies

I get that smell too. When i floor it, it smells terrible. I have no idea what it is, but the solution is simple: Do not floor it.

yeah I get it to. I am about to check and change my Cat here soon anyway. Going with a 2.25 high flow cat. I will let you know what happens then. If anyone finds a fix for it though let me know. Its kinda embarrasing at certain times.


Jim