i've got no idea why it's doing this....
when i accelerate to cruising speed (usually around 40), and hold the gas at a steady level, the car jumps and surges forward randomly...(increases of around 2-300 RPM) and then goes back to normal throttle.
nothing else seems wrong (unless you the slowness

)
i'm thinking mebbe the fuel filter (it shouldn't be the injectors, i ran some seafoam through my tank a few months ago)
or possibly my tranny. I just hit 50k miles, and i'm SURE it needs a flush and fill. Too bad i don't have a lift, or i'd check the tranny fluid level.
any suggestions or familiar experiences?
Do you have the A/C on at this time? Maybe the IAC motor is over-compensating for the anticipated A/C load, but the compressor clutch isn't engaging as expected. Does you A/C work?
Just an idea to start with.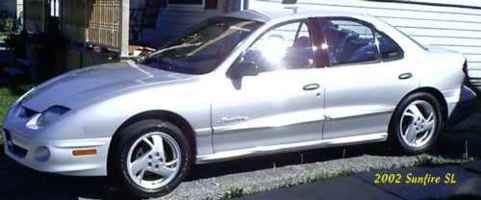 http://registry.gmenthusiast.com/images/2002sunfiresl/Modified%20sunfire2.jpg
no, the AC works fine, i don't use it much at all...like mebbe once every 4 months or something
but i think mebbe you've got something with the IAC sensor.....
how much do they run?
the IAC sensor for my 97 2.2 was about $80
check your TPS (throttle position sensor) my car did the same exact thing on my old 2.2 and i changed this and it worked just fine..
I'm having a similar problem.. But in my case I noticed.. the RPM's drop by 300 + RPMS and then when the RPMS surge up back to normal. It only does this when warm, at Highway Speeds 45-65 mph's. Anyone else experience this problem? I took it to the dealer a while back and they replaced the coils and changed the spark plugs.

Thanks,

Jeff