I have a situation where one of my fuses keeps blowing in the fuse panel. I know i have a short to ground somewhere. Does anyone have any tips or tricks on how to diagnose finding the short? I have a Multimetre but aren'ts 100% sure how to use it to find the shorting wire.
I know that the +12 is connected to one side (terminal) in the panel and the other terminal is going to the device that needs power. The fuse makes the connection between the +12 and the device.
When it's a short to ground I would assume it would be the device shorting to ground rather then the +12 side.
Am i correct?
Ryan1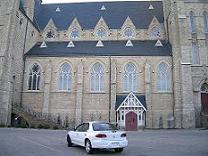 Hi Ryan

When it's a short to ground I would assume it would be the device shorting to ground rather then the +12 side.

Not really.It is any where from the "out" side of the fuse up to and including the load, although if the load were drawing excess current it would not be a short to ground but a component failure.



a short to ground means the +12 volts has taken a "short path" to the ground (Negative) instead of the normal.

Normally the +12 volts will be fed from the fuse through wiring to the "load" (Lamp.motor, solenoid/relay etc) and then to Ground i.e. returns to Negative.

with a "Short" the +12 volts finds a path to ground BEFORE getting to the "Load"


+12 volt-----Fuse-------switch----------------load--------------oGround



+12 volt-----Fuse-------switch----------------Check for low ohms/continuity along this line.

Do this,With Power OFF(Fuse removed) and the load disconnected.Set the meter to read Ohms, lowest scale, black/common neg lead to a good ground and test with the red, positive lead along the line. You should read an open circuit infinite resistance. If you read a low resistance that is probably the short to ground.


Hope this helps


Alont