Hello. Just got this Cavalier and I am going into it expecting some trouble already. I am doing wheel hub assemblies and brakes in a few days and the oil sending unit also. Seems to be a small leak around it. Torque mount replaced yesterday. Instrument cluster bezel is missing and I assume was broken when they pulled the factory radio to install a aftermarket one.

This morning is the first time I have driven it to work and I have to leave with it still dark to get there on time. Sitting in the driveway, everything was fine. I backed out and not even 10 seconds later I hear a click and the cluster lights go out, but I still had headlights and the radio was still on. I am unsure if the taillights were still on. I pulled over right away, turned off the car, and disconnected the radio harness since I re-crimped all the wiring connections last night due to an intermittent speaker issue. With the radio out of the way I restarted the car, the dash lights came on, and I started driving again. Less than 10 seconds later they went back out. Frustrated, I just pulled out my phone and swiped it so the backlight would come on and placed it under the gauge cluster so I could see the speedometer. I don't need a ticket on top of the rest of it, lol.

Hopefully someone has heard of this happening before or know of a place to start. One of thing is the second time the lights went out, I thought I heard the fan blower motor kick over for a fraction of a second. Something on the passenger side made a small squeal sound anyways.

Any help would be greatly appreciated. Thanks.

Hmm, that could be why the gauge cluster's odometer is so dim you can barely read it during the day. Poor current flow because of a bad ground. Can you name any of the places the dash harness ground points may be?

There are 2 in the firewall right behind the cluster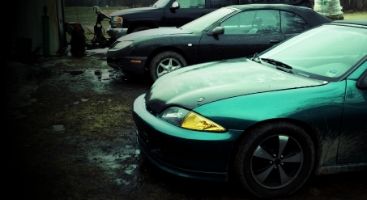 Sorry for the late response. I fixed the hack job someone did of the radio installation (bare wires showing) and it seems to have fixed the issue with the dash lights going out. I did check the grounds also and made sure they were clean and snugged them down.