Alright everybody, I have a bunch of stuff in my garage I need to get rid of ASAP. Everything is BEST OFFER.
Pictures can be found here:
http://s250.photobucket.com/albums/gg279/jubalhawg/For%20sale/
Cavalier parts:
Full Air ride set up-front air-over-struts;back is cylinders; 3 gallon tank; red 10 switch box; 8 valves; air line and fittings; 2 compressors $600 obo
Brand new drop zone coil overs $100 obo
18" enkei 5 spoke wheels (the ones in my sig) $375 firm
95-99 blitz drift front bumper (primered) $100 obo
95-05 blitz drift side skirts (primered) $100 obo
95-02 z24 rear bumper (red) $100 obo
95-05 2-door mirrors w/ signals (carbon fiber) $40 obo
03-05 black 3 gauge pillar pod (brand new) $40
Stock amplifier that goes in the trunk $10
00-05 cavalier new gauge cluster w/ tach $50
95-05 Wings West Drift polyurethane side skirts never painted $60
Weapon R intake with foam filter and K&N for ecotec and 2.4 $65
Red Aluminum Oil Catch Can $25
Other Stuff:
efx 1 farad capacitor $30
'05 Honda TRX450R w/ over $8000 in racing mods plus extra wheels, tires and other parts $6000
'00 Kawasaki Super Sherpa 250cc dual sport motorcycle 10k miles, garage kept, looks like it came off the showroom $2500
Traxxas T-maxx gas powered R/c truck 4x4 with many mods and extras $250 obo
I know I have more stuff, but can't think of the rest right now.
Anybody intested, just let me know...
PM me
Email: jubalhawg@yahoo.com
Text or call: (936)661-0713 (leave message is no answer)
i mite be interested in the air ride.. you comming to the pismo meet> ?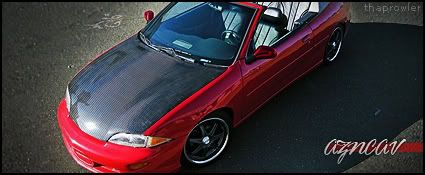 No I'm from texas, so shipping would have to be the key. I'm getting a warning saying I'm can't sell multiple items b/c I'm not a premium member. So how can I delete this post?
you cant...
how much you think shipping would be? to 94589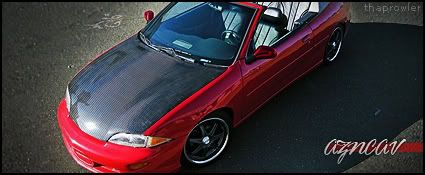 I would let it go for $675 shipped (I work at UPS). I got the warning b/c I posted the same post in the North Eastern forum and you can only sell one item at a time there.
No, only have the drift fiberglass front