He owes me either a refund, or the lip he sold me during the beginning of august.
I havent heard from him in over 2 weeks, and before that it was almost once a week, he had no problem sending me email the same day I sent him one regarding the lip and payment, and as soon as he got payment Ive barely heard from him.
Hoping hes ok, but if anyone on here knows him could you send him a text or phone call to let him know to take care of this situation.
cheers
I also bought a harness to put 2k+ headlights in a 95-99 cavy from him. I have not received them or gotten a response to any messages I sent.
been another week since i was told i was getting a refund....
ZsZ- you have any luck? lol
been ANOTHER week since i was told i was getting money. This is getting ridiculous.
Good luck, he has had previous selling failures here on the org, and claim he's changed.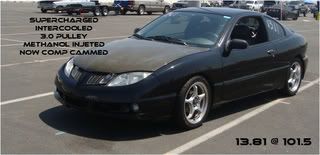 13.3 @ 106 mph Cammed
Wish I wouldve known that before, think i might report him and his friends paypal he had me send the money too. Maybe that will change his mind?
Worth a shot I suppose.
His friends paypal? that should have been a redflag right then and there lol

thought i could trust the guy, he is/was a real known member here.
says hes got my money "set aside" but still having problems sending it to me. dont know but i think making a new paypal account wouldve been faster then this.
Money order would work as well...

I fuking hate bs sellers especially when they are supposed reputable members.

this matter has been resolved
thanks