my 04 ecotec motor is forsale. need it gone yesterday. 150 obo. its got a blown ringland on the #3 piston. head hasnt been pulled off. shipping/pickup is up to buyer.
parents want the garage clean and its my @!#$ taking up space.
also have
03-05 rk front lip.. 100bucks
320cc injectors with clips
drift side skirts. (minor cracks needs a lil reglass. make offer)
auto meter a/f guage. 20 bucks obo
03-05 trunk w/ oem spoiler and night shaded tails
i know iv got other @!#$ im forgetting.
iv been soo busy with work and tryin to get money for the s2000. still havent hooked up the nitrous yet.
i just need this stuff gone.
http://www.myspace.com/15102113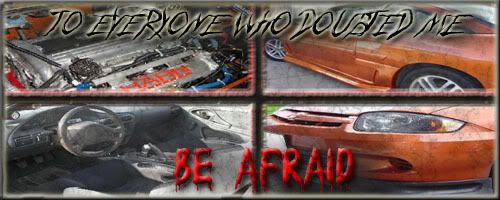 12.5@116 2.0 60ft
you're holding the skirts for me... just remember that

how much would you take for the block bare with just the girdle and the oil pan?
pic of gauge? could you send me a pm with it?
Edited 1 time(s). Last edited Monday, June 02, 2008 10:59 AM