im trying to clean out my garage a little...
This is all for sale at whatever kind of reasonable offers you guys wanna give me. LOCAL PICK UP ONLY. i dont want to ship anything.
00-02 Stock z24 bumper. Damaged from accident, but could be good for some kind of fiberglass project [make offer]
00-02 Stock corner lights. Small crack on outer light from road debris. Could probably be polished out. [make offer]
00-02 stock tail lights. Small amount of damage as shown. [make offer]
2.4L GM LD9 stock manifold & head shield cut right before cat. [make offer]
2.4L GM LD9 stock intake system. Includes everything from air-box to throttle body. [make offer]
Stock CD player [make offer]
2.5 inch assorted charge pipes, coupler, and clamps. [make offer]
Stock rear seat belts [make offer]
Fog lights[make offer]
(2) Black/chrome Z24 badges [make offer]
Greddy type RS style blow off valve. Comes with 2.5 pipe insert and adapter flange. [$40]
Forge ratchet style manual boost controller [$70]
Turbo oil feed line and misc. hardware [make offer]
Garrett T3 turbocharger (blown) [make offer]
Turbo down pipe (cut before cat) [make offer]
STR turbo manifold with 5 year warranty. (has about 1000 miles on it) [$150]
Vibrant performance 35-38mm wastegate block off flange (used on the above manifold for an internal wastegate setup) [$10]
38mm external wastegate (spring inside replaced with Tial 6psi spring) [$50]
38mm external wastegate dump pipe [$25]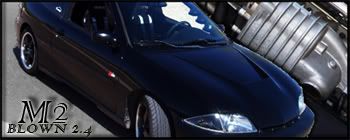 Eat my shift
by the way you can email me about any more pics//questions about this >> m2biatch@yahoo.com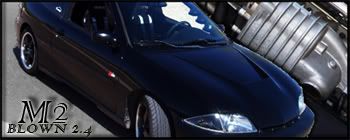 Eat my shift
If the deal for a car I was going to buy this Saturday falls threw Ill be giving you a call on many of these parts

.
My Cav
I give up...
i'm buying a VW those people love trees, so they should love eachother too... "Andy"
sounds good to me. just to note, the parts are in better condition than they look, nothing was cleaned and has been sitting in my garage since december
i also have a front mount intercooler and other charge pipes we installed on my brothers 240sx. it might be coming off to go on sale depending wether he can actually pay me for it or not though.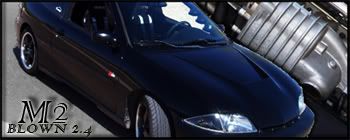 Eat my shift
Mike,... i have your intercooler in my trunk lol

mike i will give u 14.63 for ALL of it....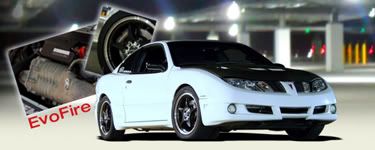 done. come pick the @!#$ up. lol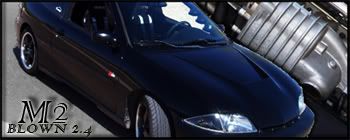 Eat my shift
hahaha lol alright everyone i got some cavy ish for sale read above....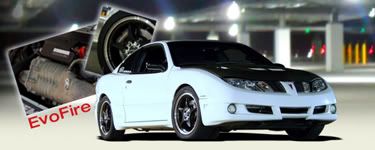 all parts still sitting in my garage.
there is also a black hood in very good condition available
im gonna trash these if no one buys so let me know asap...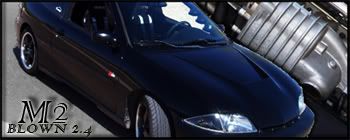 Eat my shift
craiglist mike.... i might have a guy interested in the turbo stuff.....ill let u know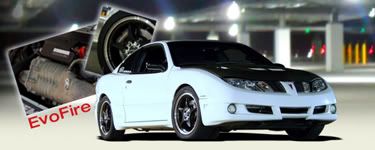 Ok I have to ask, were you chewing on the bumper or what?

All the turbo stuff is GONE!!!!! sold today!!!!! good job EVOFIRE!!!!..lol... just so everyone know