Very special thanks to all the sponsors and fans who supported the 2009 NOS Energy Drink IMPORT FACE-OFF series. 2009 was our biggest year yet with 22 events nationwide. EVERY repeat location that was not affected by weather or date change had an increase in attendance from the year before. The first event of 2010 will mark the 100th IFO since 2001! It's a MYTH that the scene is dying!
New for 2010 will regional points championship plus coverage from Import Tuner and PAS magazine. Don't miss the next IFO that comes to your area! www.ImportFaceOff.net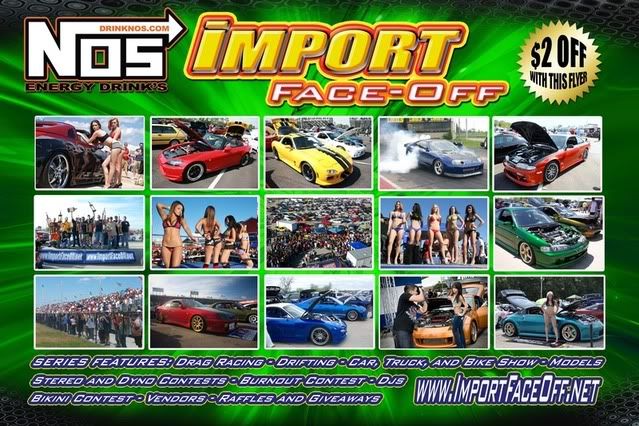 DRAG CLASSES AND PAYOUTS PER EVENT (full rules on IFO website)
FWD $1200 - slicks/open exhaust/gutted OK - by SPEC clutches and flywheels
FORCED INDUCTION PRO $1000 - slicks/open exhaust/gutted OK - by Secret Services
FORCED INDUCTION SPORT $300 - full int. street cars only - by Go-Autoworks.com
ALL MOTOR PRO $500 - open exhaust/gutted OK - presented by Hybrid Racing
ALL MOTOR SPORT $300 - full int. street cars only - by Central Performance
OUTLAW $500 - anything goes - presented by Cobb Tuning
BRACKET $200 - any import/sport compact
TEST AND TUNE - any make/model welcome including bikes and domestics
EVENT PRICES
Spectator $15 with flier (reg 17) ok to print flier above off computer
Car show competitor $25 - Racer $25 (competition or test and tune)
2010 RACE POINTS CHAMPIONSHIP presented by LightningMotorsports.com - The Import Face-Off Race Points Championship is for Heads Up Pro class racers only. Racers will receive 10 points for every elimination round won at each 2010 event. Winners will be chosen for Top 8/16 qualifier classes (FWD or FIP) and for Top 4/8 qualifier classes (AMP/OL) for 5 different colored regions (see map below). All race points winners will receive trophy plus free race and crew entry (limit 3) to all future IFO events FOR LIFE! All trophies will be awarded at finals. Overall national winner will also receive a $2000 Lightning Motorsports certificate. More prizes for individual regions and classes to be announced throughout the year. Check website for updates, www.ImportFaceOff.net
2010 SHOW POINTS CHAMPIONSHIP: The Import Face-Off Show Points Championship is for Car Clubs only, not solo entries. Car clubs will receive 10 points for each Best Club Representation (not Participation) award won at each 2010 event. Winners will be chosen for 5 different colored regions (see map). Winners will receive trophy plus club feature in the February, 2011 issue of PAS magazine.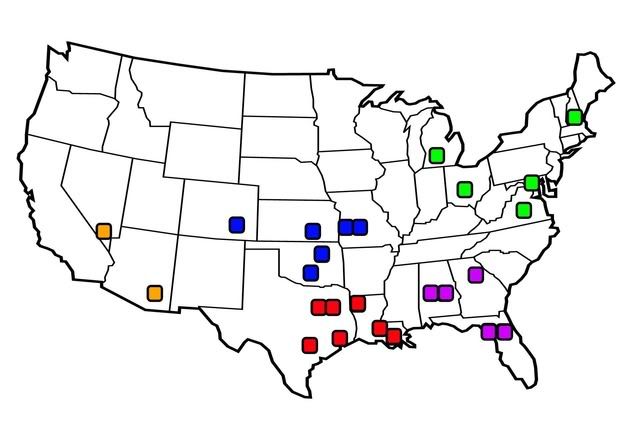 ****
If you would like to help pass out IFO fliers while making some extra cash, please follow the simple instructions in the link below. The program pays well if you get enough fliers out. There are successfull, repeat promoters every year at every location! http://importfaceoff.net/promoters.htm ****
whos all going to this in tucson?
To bad its for imports only. No domestics

not true IFO is the @!#$, i have a blast everytime i go.
R.I.P. Brian Klocke, you will never be forgotten
yea anyone can race on the strip, and anyone can enter the car show so its not jsut for imports they should change the name but prolly wont even though there will be plenty of domestics there.
im going and plan on running...that may just be the day i blow the motor and have to get a new one....lol....since im like 10 minutes away anyway...
BOOSTED FOR MY OWN PLEASURE

HMMM interesting! The same post was made on a local forum and all the domestic(mustangs and such) where complaining cause its only for domestics.