I have a 2002 Cavalier the engine just hit 200k this weekend I have a 2.2L stock engine with the VIN Code 4 I just wanted some suggestions as to what engine I could and should swap it out with. I have a 5 speed standard and I'm wanting an engine that will put out a good bit of performance. Any an all suggestions would be helpful thank you. and if any additional info is needed please let me know.

if you want an upgrade get a lower milage ecotec to swap in wont be too big a deal since you have a 2000+ j. just a weekend and some money.
just replace the motor with the same one.
if you want to swap youre going to need the engine, tranny, wiring, computer, ect. more of a hastle than the power is worth imo.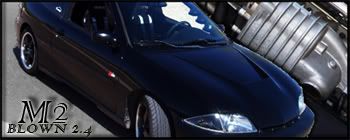 Eat my shift
Going from 100 HP 2.2 to a 140 HP Eco seems worth it to me.
Might be cheaper in the long run to just pick up a newer Cavalier with an Eco in it. I have seen several on Craiglist with 50k to 80k miles for $1,500 to $3,000.
Just an example -
http://phoenix.craigslist.org/evl/cto/1708558173.html