Ok everybody, it is time I move on and out of the j-body seen. So I'm selling the 2 cavaliers I have.
2003 cavalier white sedan w/ 186k miles, 5 speed (slight grind going into 5th), new radiator fan, needs a/c fixed, dent in back door and hood dented from flying up going down the highway. $1500
2005 Cavalier LS Sport supercharged, 94k miles, auto, 18" momo wheels, fairly new tires, red momo seats, over $6k in stereo alone including jl 12w7, focal k2 components, jl slash series amps. Ram air hood, and many more aftermarkets. Will also include all my aftermarkets I haven't installed except my gm xtreme tuner kit. $10k obo
can email or text pictures
call/text me at (936)661-8899
leave a message if I don't answer.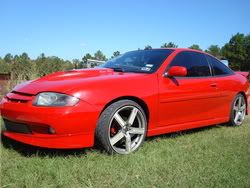 I know you said you need some things replaced but does the 03 cavy rides good? Any other problems you could think of?


www.gmofhouston.com

It rides and drives good. Only problems are as stated in original post.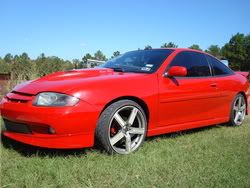 What extra aftermarket stuff do you have?

13.520 @ 98mph! 220whp 234tq
Supercharger kit price and items u will include plz


*****BLAME IT ON THE ALCOHOL*****