Donít miss out on $8000+ in cash and prizes at NOS Energy Drinkís 8th annual IMPORT FACE-OFF on Sunday, December 9th at San Antonio Raceway. Visit www.ImportFaceOff.net for series info.
If you would like to help pass out fliers for this event while making some extra cash, please reply back with your 1) full name, 2) complete mailing address, and 3) amount of fliers you'd like (envelope of 200 or box of 500). Promoters are assigned a number and are paid on commission, $2 for every flier that comes in with your number on it. Spectators bring in the fliers because of the $2 off admission coupon. Checks are mailed out within a week after the event. The program pays well if you get enough fliers out. There are successful, repeat promoters every year at every location.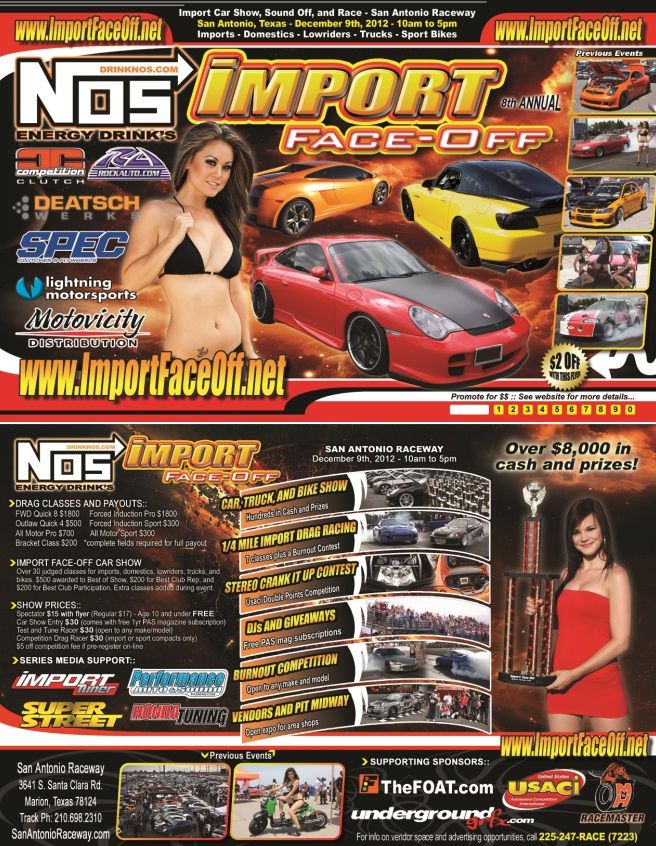 ill be there racing my cav and hopefully our shop van will be done to compete in the sound off. 16 thousand watts of destruction!!! bwahahahaha!!!

Austin, You're going down if I get my tune

Dont think Ill race with it full rich though cause its basically useless in a 1/4 run if its not able to run at WOT properly.
Either way, I will go to watch...I love the smell of gas and rubber...I wish I could find me a sexy litle female grease monkey...the garage would be our bedroom every night!

04 Cav. 2dr. 5spd. My DD. 'Nuff said.
you wont beat me. you cant beat me. and even you you do for some reason beat me, just remember that i built your car. bwahahahahaha

btw my car should be getting a new tune by this weekend....

no..you helped built my car...i did most of the dirty work

and since you'v now gotten your new tune...no excuses when i wax your ass with my current crap tune.
should be a good day though..lots of ppl at this event. i may sign up for races just to run you, otherwise without my tune im useless. we'll see. all will be fun either way! lookin forward to it.
04 Cav. 2dr. 5spd. My DD. 'Nuff said.
got my tune.... come get some!