So i picked up my 2001 Cavalier the other day! Sadly it is a base-automatic. But its a J either way! I'm slowly gonna build it into a nice DD. Nothing flashy or extreme and it wont be racing haha. I'm a kid in High School(Senior) and this is my gas saver since prices are so damn high.
Anyways, more about the Cavi! It's got 151,xxx miles and it black paint and has almost no body damage! I just recently joined this forum and I'm starting to like the J-Body cars a lot now that I own one myself. I plan on doing mostly cosmetic changes to the car. The only "extreme" thing in this car will be audio(I'm into to the Db dragz and competing locally with my Tahoe) Any who input from any members on here would be nice! Advice to a N00B is quite helpful as well.
Here's a pic: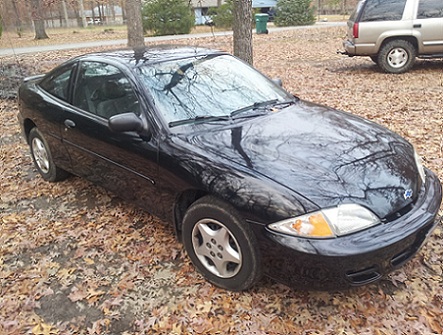 Do motor and trans mounts, QUALITY suspension mods, and do a cheap intake and a good exhaust if you're into that kind of thing. All can be done relatively cheap and youll be a lot happier with what you have.
"In Oldskool we trust"
where you located? maybe could point you to a local club in your area
Pine Bluff Arkansas! Haha Would like to find people around me. I was looking at the ebay intakes. I plan on front and rear strut bars, lowering it, rims and tires, exhaust, tint, and dome other exterior mods. I need input lol

Btw this car will not be a regular teenager-wanting-to-go-fast-and-mod-car-to-make-it-look-ridicuos cars. Haha. Just nice and very clean, well done mods. This is my 4th vehicle I've owned. I own two as of now, the other is a 2000 limited z71 Tahoe you see in the background of the pictures Haha.

If you're not going for performance and its to remain a dd, I would stay away from solid motor mounts. They WILL at some point start tearing up your plastic dash parts. Plus they're mostly beneficial to those trying to launch off the line. But the suspension with intake and exhaust is a great place to start. since you're not racing it, good longer lasting quality ride tires are better. If you want to make it feel sportier than a cav does from the factory, you can even swap in some Camaro or Grand Am seats (brackets simply swap out) and maybe for fun buy a digital compass/auto dimming rear view mirror like i did ($40 shipped). Or get the LSS parts and swap the mirror and other 'LSS perks' into your base.
good luck! dont feel bad, I started with an 04 5spd base..its come a little ways

04 Cav. 2dr. 5spd. My DD. 'Nuff said.