Attention, I really need some input and some help. First off everyone who has it or has one like it, i need your input too.

Prob 1:
I need to know the exact measurement where i need to cut the downpipe on the car so that i can connect the connector part from the weapon r header. (Measurement meaning from the cat to the front of the car how far was the cut made)

Prob 2:
The secondary or whatever you call the second part that has the O2 sensor on it from the new header looks really long and from looking at it, it looks like the wire for the sensor will not be long enough. Did anybody else have any probs like this. Am i just crazy that the piece looks long.

Prob 3:
Now i am going to eventually go and get the connector part welded on to the pipe. I was wondering from people that already have this header or other header's like it, how long was it, if even did it begin to have an exhaust leak.

Guys i appreciate any help. I am kinda stuck here because i dont want to cut and then be wrong on the cut or wrong about some other aspect about it. I am really good with working on cars and usually never have any problems. Every thing is usually straight foward but i am the first to admit when i am stump and stumped about this would be an understatement. Please Help me ASAP and HAPPY THANKSGIVING

Get: AEM
<br>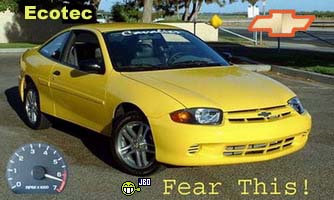 New Picture comming this summer.
you want to weld the extension to the cat
also install the header , and bolt the extension up then measure up where you need to cut the pipe going into the cat
<br>
First off this is for a header not an air intake. I don't think AEM makes a header for our car. If anything it would be a DC sport header which is owned by AEM and its not out yet.

For the header i just wanted to unbolt the stock manifold part and cut by the cat and just remove the pipe as one piece from the top of the motor. So for people that have installed the weapon r Header it would help me if i knew where the cut was made from the cat so that i don't cut it too short. Please help me.

DUDE install it then measre it then cut it , each 1 is most likely going to be slightly different
thats the best way to do it
if you want to cut it leave alot of pipe left then cut it to the correct length
dam lazy people
<br>
when mine was put on Dauber spliced in wires for the o2 because stock one is nowhere near long enough to reach the bung on the header <br>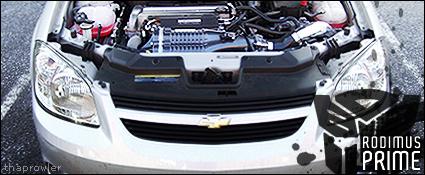 1989 Turbo Trans Am #82, 2007 Cobalt SS G85
ok, i have a weapon R 4-2-1 on my 03 ecotec. should be the same.
mobster83 wrote:

Attention, I really need some input and some help. First off everyone who has it or has one like it, i need your input too.

Prob 1:
I need to know the exact measurement where i need to cut the downpipe on the car so that i can connect the connector part from the weapon r header. (Measurement meaning from the cat to the front of the car how far was the cut made)
once you have every thing installed you will be able to see how much pipe to leave, just sawzall enuff off to get 1 pipe to fit into the other, then go get it welded.
mobster83 wrote:

Prob 2:
The secondary or whatever you call the second part that has the O2 sensor on it from the new header looks really long and from looking at it, it looks like the wire for the sensor will not be long enough. Did anybody else have any probs like this. Am i just crazy that the piece looks long.
there is barely enuff cord. it wil barely go together once its all tightened up.
[quote=mobster83Prob 3:
Now i am going to eventually go and get the connector part welded on to the pipe. I was wondering from people that already have this header or other header's like it, how long was it, if even did it begin to have an exhaust leak.
I cut the small downpipe off and welded 2.5" to my catco cat. After resetting the ecu again, car pulled a little bit harder then over the small downpipe.
mobster83Guys i appreciate any help. I am kinda stuck here because i dont want to cut and then be wrong on the cut or wrong about some other aspect about it. I am really good with working on cars and usually never have any problems. Every thing is usually straight foward but i am the first to admit when i am stump and stumped about this would be an understatement. Please Help me ASAP and HAPPY THANKSGIVING[/quote wrote:

<br>



1: eyeball it
2: it will fit, mine fit, it was close but it did fit, I even have my cat moved back farther downstream in the exhaust to fit my cutout ahead of it and the rear one reaches to I didn't have to cut and add wiring to the sensors.
3: don't know I did it right the first time, if you can afford the header you can afford to get it welded. <br>