Estimated power gain? - Performance Forum
Forum Post / Reply
You must log in before you can post or reply to messages.
I got an 04 cavalier with a few bolt-ons. I was just wondering if anyone has about the same setup and ran it on a dyno. I plan on going to get it ran on a dyno in the next month or so just for @!#$s and giggles, but I wouldn't mind a little input from yall. My guess is it gained about 15hp, but we all know a butt dyno doesn't mean jack. My bolt-ons are a custom made ram air intake, pace setter header, and a magnaflow 2.25" catback.

you're guess is a bit high.. id say maybe 8hp. you spent a lot of money to gain only 5hp with the magna flow catback.. could've nearly bought one of those kits to build the engine for that price.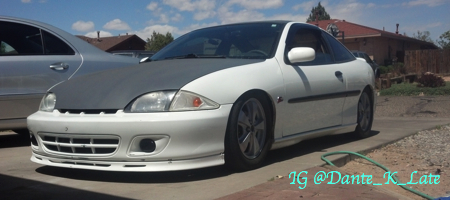 My guess is 145whpish.
Yea, the catback was a little steep, but owell. Yea, I figured it didn't gain much without some bigger injectors and a tune. I am still debating on whether I want to toss out the money for a SC or just build the head up with some stage 3 N/A cams, valve and spring upgrades, an intake manifold off of the LE5, bigger injectors and get it tuned and just keep it at a decent HP range without boosting. What do yall think?

need boost


2001 Alero 5-speed: GT3076R @ 21 psi

I just cant see dumping $3000 on a SC kit unless I can find one used, plus cams, injectors and getting it tuned...

Now a days with the use of CSS.net you can have a setup for about $1000-1500. Much less then your plans and you will make 3x the power

Edited 1 time(s). Last edited Saturday, May 31, 2014 7:57 PM

By custom ram air intake, I hope you don't mean just sticking a pod filter from AutoZone on your stock intake. Cause that literally will do nothing performance wise. But still, overall you're probably only looking at less than a 10 HP gain.


Got heem!

No, the stock intake is completely gone. This is custom made by me for very cheap, and I bet it gave the same amount of flow/power as a $200-300 intake.

Got it dyno tuned today. So with the short ram intake, LE5 manifold swap, LSJ injectors, Pacesetter header, gutted cat and a magnaflow catback, he tuned the fuel around a bit and with 87 octane it put 145.4hp at the wheels. Not too bad for just a few bolt ons and swaps on a engine that puts 140 at the flywheel that has an auto transmission.

Forum Post / Reply
You must log in before you can post or reply to messages.