I've been reading a bunch of posts on this and got myself turned every which way now. I have a 2000 2.4 harness, MSD 2.2 OHV coils, adapter blocks, 2002 ICM and connectors, DIS-2, etc etc.
I want to use the "KISS" method here and want to make sure I'm right. (measure twice cut once)
I should be able to just splice in the connectors from the 2.2 for the ICM on the 2.4 harness, then just use my set up with the 2.2 ICM and adapter blocks. Or am I missing something? Just seems too easy for some reason.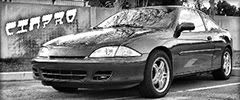 Nope as far as I know it's that simple. I believe the wires coming from the harness are even the same color for both ICMs, just a different plug setup. Then you have to wire the adapter blocks properly to the LN2 icm. I found a picture for that and attached it for you.
Attachments

LN2 coil to LD9.jpg (43k)

"In Oldskool we trust"
Thanks that should get me moving again