Hello guys im selling my manual trans out of my 04 eco cavalier that has a rebuilt quaife in it. Hasnt been ran since the new quaife was installed. Im gonna start the price out at $800 cause a new quaife is $1500 and a used trans is $300-$400. I decided to go with a welded stock differential so have no need for this, and i may be going to an auto over the winter so let me know if your interested. This will be pick up only and im located at 61008 northern Illinois. Thanks guys. Oh and I also have a arrival blue 03-05 hood for sale. Umm lets say $50 on that. Also pick up only.


My Sig Was To Big

where at in northern illinois? srry btw i'm not interested in the trans or hood. i was just curious where you race at? i'd love to come see the car sometime.
Um I live in belvidere right next to rockford. I race in byron. I am actually going there tomorrow.


My Sig Was To Big

Damn....I am too far away, LOL!!
Jason
99 Z24
LG0/LD9 for Life
10 Year Bash Veteren

How much for tranny



Reply to bigjim0938@yahoo.com

This thread is like 2 years old....plus Camron is selling the drag car, shoot him a pm maybe he'll respond that way.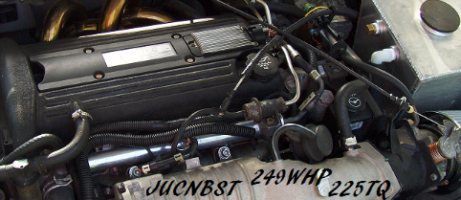 He still has the tranny, I just don't have time to drive out there to get it
Jason
99 Z24
LG0/LD9 for Life
10 Year Bash Veteren