After having my car since 2005 i think its time to give up and move on last night was the straw that broke the camels back. I was driving home and either my clutch or my trans took a @!#$ again and also when i changed my oil on saturday the oil that came out was all metallic and full of metal shavings. So at this point and time i now need either clutch or trans and an engine. So i think its time to part out. What do you guys think?

ouch. well sorry to hear bud. if you are looking for a motor I am putting one together right now, the only thing I need to get for it is head bolts. currently it is all sitting there but i need to get the head bolts in and put the timing on. I would let it go relatively cheap.

Idk man you seem to hav the worst luck with your trans issues....if it's paid off just fix it and keep it as a cheap dd that gets decent mpg's then get a toy.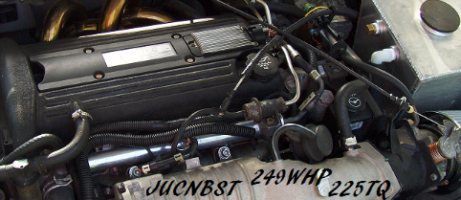 JUCNBST wrote:

Idk man you seem to have the worst luck with your trans issues....if it's paid off just fix it and keep it as a cheap dd that gets decent mpg's then get a toy.
Ya

But at least they are not expensive. ~300bux for the getrags and it only takes me about 3 hours from start to finish doing the trans/clutch.
I'm keeping the car and not going to do any more performance stuff to it. I am going to throw on my new suspension/control arms/bushings and put the 4 new calipers/rotors/pads on and keep it for a while and maybe hit the cones and road course.
GMANZ is it a stock motor or whats up?
yes the motor is stock. I just have it sitting in my garage, it was a backup for when I had my built motor just in case.

Didn't you also go through wheel bearing like all the time iirc? I used to autox on a regular basis and had upgraded rotors and pads but never realy went through many bearings. Ever consider the bbk being the cause of some of your. Problems?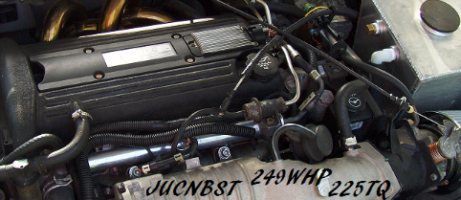 Ya I replace the front bearing every 15-20k. I believe its because of the big brakes and 17inch rims and running wide tires on Chicago roads. The hat for the front rotors are about 1inch so all the weight is is so much farther out so I believe that has a lot to do with it also. BTW Lifetime warranty is great!!! Lol

I got my new clutch (exedy oem replacement), Stock flywheel, FW and PP bolts, trans. I will be putting them in tomorrow after work. Ill be sure to post lots of pictures

we have a super good complete 2.2L from a 98 with 80k miles for sale
work out a fair price or come see anytime call paul in afternoon time after about 1pm daily 217 732 9204

located just above Springfield IL 25 miles, on I-55 directly, at exit 123




have transmission and cv shafts etc. too, automatic, all from same car , matching unit ,same mileage, same car

we have no use for it, it is in our indoor dry storage still, wont work for the 96 we need a transmission for,

all these parts need to go to good new owner

really would hate to waste them



-96 cavalier 2.2 auto 143k miles

Fast68chevy- he has a completely dffernt engine than you have for sale.