Hey Everyone,
I'm Posting for my brothers girlfriend. She got in a minor fender bender when we got some good snow a week or so ago and smacked up the front end of her 1996 Cavalier - She is ok, Just shook up a bit. Lookin for some stock front end parts if anyone is in need of gettin rid of some.
Needed are: (Stock Items)
Hood
Front Bumper Cover (Not the Black '95 Base Cover)
Left Front Fender (May Need Right as well)
Left & Right Headlamp assemblies (Brackets broken)
I know its a shot in the dark, but the factory colour is "Light Metallic Sanddrift" paint code WA220C
Thanx in advance, just send me a PM if you can help - We live in Oshawa & can do pick up if the distance is reasonable.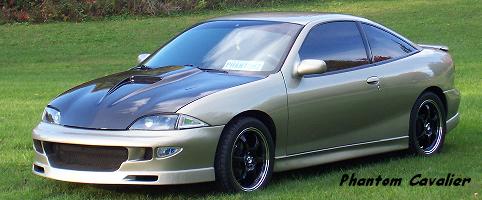 3rd Place 3rd Gen Modified - 2010 JCO Bash
1st Place J-Body Mild Class - 2010 XTS
2nd Place Cavalier Mild - 2010 OPC Summer Showdown (Day 1)
1996 Chevrolet Cavalier Z22 "Import Fighter" - 2.2L OHV
2010 Pontiac Vibe "1SC" Package - 2.4L DOHC VVT-i
I have a black 95-99 Z24 front, just throwin it out there. PM if intersted.

M62, 42's, ZZP 3", ZZP S3 H/E
214whp 190wtq
I've got a passenger side fender if needed (Its silver) PM if interested.
- T.
Full Urethane Wings West Big Mouth Kit For Sale!
if you're still looking I have a red Z24 front from a 98, with a minor crack just needs a little epoxy, small enough to be hard to take a photo of, paint is partially sanded. got headlamps and corners lenses, headlamps bolt holes have been enlarged slightly by the previous owner but will still work fine. Also have the crushpad and the plastic panel that covers the rad support.
dave, i need that crush pad! pm me if ya wanna split it up
could do, OP i'm in Whitby BTW
did you want that crush pad Wayde?
how you want to sort this out then? ever in whitby?
nope but i can make a drive out that way
I have a Black hood stock in good shape, PM me if interested with a price.

hi,
if you're still in need i'm getting rid of a 1996 black chevrolet cavalier standard trans (downtown toronto)
getting new car because of issues...
engine will not cool even though coolant is circulating (new rad)
coolant light on and off periodically
rear right signal light burnt out
front right bumper scratched
rusting on hood corner, door corners
miscelleanous interior parts missing (seat side cover, seat belt cover)
windsheild fluid spray does not spray evenly
air conditioning broken and can't be fixed because the chemical used is now illegal
CD player no longer plays CDs
brakes are in ok condition
clutch is in good condition
low mileage for a 15 year car (199,750km)
one female owner
new rad
all season tires in good condition
new michelin windshield wipers
viper alarm system
super clean/non smoking car