Meet up Northern VA - Mid East Region Forum
Forum Post / Reply
You must log in before you can post or reply to messages.
Hey! Is anyone in the Northern Va area wana meet up and talk cars?
hit me up

Good luck getting anyone in VA to do anything. In all my attempts I've gotten one good meet up once.

I'm down in the Norfolk / Virginia Beach area so activity might be different for you but don't get your hopes up. If you ever make your way down here though hit me up.

Hampton here but my J is not worthy of seeing atm lol. AC Compressor needs changing and I think the power steering is squeaking now, haven't had time to change and look at other yet as I have been working too much. Tokico blue's on way though with new mounts (Monroe mounts), already have Eibach pro kit to put on. After I get it viewable I would like to meet up sometime in the future,

Well if you ever need a hand you know where to look. I'm stuck here another 4 years now so I'm going to be around for a bit. Would really like to see some more J's around here.

i got my black 01 cavalier back in october.... and ive had a sunfire gt before that.. sunfires my daily its got 250k and goin still. the cavy has the m45 and eibach pro with tokico adjustables and eibach sway bars... short ram gutted exhaust and of course the optima battery

ac compressers clutch died on my sunfire never had trouble with the p/s

Been working on the racecar for Langley this year more than the car so I haven't had any time to fix my squeak. Tokico Blues should be in mail soon, already have pro kit and mounts rdy when the Tokico's arrive, Will need time to do that also though LOL.

I'm in Vienna and would be down for a meetup. I need to change my rack and pinion though, but the car is kinda DD, so it's drivable.
Anyone have a garage I can use? I wish I had one to do this work in.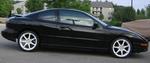 Wish we weren't so spread out in VA. I would love to meet up with fellow JBOers on a regular basis.

If ever on the Hampton side come out to Langley-Speedway sometime, I am usually always there on the weekend if I am not working. Mine isn't much to look at atm but always good to throw ideas around and stuff.

Never been there but if I'm ever out there I'll be sure to hit it up.

Forum Post / Reply
You must log in before you can post or reply to messages.