I'm looking for 2000-2005 front brake HARD lines (left right) that come off the master. If you have a parts car and will get rid of the lines lemme know. Trying to ask around before I hit the yard again.

Thanks











~2014 New Z under the knife, same heart different body~
______________________
WHITECAVY no more
2012 numbers - 4SPD AUTOMATIC!!
328 HP
306 TQ

why not just make your own? you can get the 3/16 copper roll which bends very easily

If you were a few hours closer I would make a new set for you.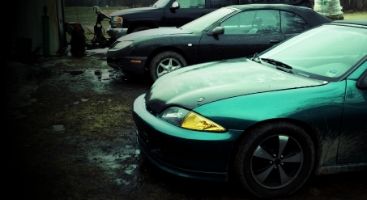 How much are they at pick-n-pull? Might be cheaper then buying copper coils and end nuts and dont u have to flare end.
I'm going tomorrow i'll look.

Go to napa as they carry brake lines in various sizes and styles.I use the polymer version so NO rust.I did buy a brake bender tool there too for around 18.00 and easy.The key is take a string and run it along your original line then measure it.Napa will have the correct ends as the assortment is good,and sizes too.You should not need a flaring kit as the ends are already on the lines and if your first go round on bending lines buy 2.I have done a rear axle,some shorties for some cars and so much better than crap from a old car that may be worse to remove and reinstall and bend up,threads all goofed.Napa generally has the brake lines on a rolling cart on the sales floor so you can check and verify the length,ends etc.Just my thoughts.
Thanks everybody for suggestions. I wanted to make my own but kinda chickened out because I thought I had to flare my own lines and didn't want to jack that up.

All good Nic, thanks.

Ron Love thanks man for the info. Ill have to check into NAPA if I can't find an already made set first.











~2014 New Z under the knife, same heart different body~
______________________
WHITECAVY no more
2012 numbers - 4SPD AUTOMATIC!!
328 HP
306 TQ