Heres the deal. i have an 04 cavalier and have been parting out my 96 and 97 cavs.... i have a full fiberglass drift kit for the 04. i dont like the rear on the kit.... sooooo i was thinking about somehow swaping the rear for the 97 urathane xenon rear. How would i do that? just use the little square body panels under the lights on the 97 with the kit and im good? Please give me some info if you can, thx.

Straight lines are over-rated In My Opinion =]
as for the front i know it wouldnt fit because of the little triangle pieace beside the headlights and the piece between the headlights. right?


Straight lines are over-rated In My Opinion =]
The square pieces will work fine. It is all practically the same. Might have to swap a couple of bolts here and there, but very simple. You can even keep your 04 taillights if you like them.
what do you mean swap a few bolts??

Straight lines are over-rated In My Opinion =]
from 04-97 take the covers off swap both the bumpers and the PADS and then proceed to bolt them back up. Direct swap when you do pads/bumper the 04 will also need like stated the squares under the taillights so that the bumper mayline up where as the 04 bumper has them built in. easy swap. The front is a total differant design all together and will not swap JUST bumpers with out major bodywork. best way if you like the 04 front and wanna swap the bumpers get to cutting n fitting and lotta body work. however if you dont then you can swap the HOOD, Lights, Pad, Bumper and light harness over to the 04 from the 97 and then you will have the whole 97 front on it.But this route is BOLT ON so idk your skills or how indept you wanna go but there you go.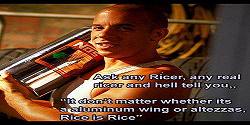 I would try asking in the correct forum...which would not be a regional forum...

Cool thx, imma just swap the rear. and no, i wanna ask around in the region section, cause i would like to make some online friends in my region... as queer as that sounds lol

Straight lines are over-rated In My Opinion =]