Bought a 98 z24 last week. driving it on the highway the other night to work and it started acting funny and had no power. Got it to my garage i deal with and the oil light came on. Motor was making a ticking sound but other then that was fine. Garage took a look at the motor today they said i have a major oil leak coming out of the timing chain housing. says the gasket is missing? and there is a small noise coming from the bottom end. The told me it would be better to put another motor in the car. At this time i don't want to. So im asking 1800 for the car or will part it out once i get the car back from the garage. car has 174K and no body rust.
I am located in Connecticut

i wish you best of luck. looks like a nice rust free car. you can get an engine cheap enough for it but otherwise 1800 is going to be tough sledding when running versions sell for the same. may help to show the interior etc. where in ct are you? i am down in norwalk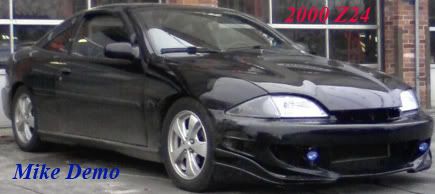 It is rust free thats why i bought it lol. I'm over near andover/willimanitc. I'm going tomorrow to pick the car up from the shop. My dad still isn't convinced the motor is blown. they told me it threw a rod bearing. Found a motor for 600 with 64K on it so i might be getting that tomorrow. If i replace the motor ill run it till around march then sell it. I will no tomorrow whats going on when i get the car home and can look at the motor.

Ill be selling parts of the old motor. I'm not sure what exactly blew one the motor. I still ran and drove normal it was just ticking. So if anyone needs parts off the motor let me no.

Can you post some wheel well, under body, engine, and interior pics?
Brother is looking for another cavalier.
Its still up on jack stands getting the new motor dropped in this weekend ill take some pics of it.