Ok, car has been unofficially for sale for a little bit, and I'm just finally getting around to actually posting up about it. Selling because it's time to move on, I have another project car already, and do not have time or space to support both.
2004 Cavalier, owned since brand new
-125k miles on body. No rust issues, typical surface corrosion on subframe and trailing arm, but body is in great shape. One or two nickel sized dings in the body. Fuel cap door and antenna are shaved, fuel filler relocated to trunk jam.
-No cruise, no ABS, no A/C
-I did already paint the engine bay the new color I was going to paint the car, BMW Sterling grey, when I had the motor out, and would prefer not to paint it back ti black. IMO doesn't look bad at all next to the black.
LSJ/LK9 motor swap, 41k miles
F23 5 speed transmission
-TTR motor and trans mounts
-Been using Amsoil motor oil and Royal Purple trans fluid
-Oil cooler bypassed
M62 supercharger kit with 3.1 and 2.9" pulleys (currently tuned on 3.1)
-HP Tuned by Oldskool
-LS1 throttle body w/ Tinkle's adapter
-4" CAI
-Dual pass endplate
-ZZP S3 heat exchanger
-ZZP phenolic manifold spacer
-Oversized tensioner pulley included (used with smaller blower pulleys, not currently installed)
-60# Siemens injectors
-Racetronix fuel pump and harness
-Griffin aluminum radiator, deleted coolant bottle, FrozenBoost radiator fan
-Cam cover modded with two -8an fittings, plumbed to baffled catch can
-LSJ Pacesetter header, 2.5" stainless exhaust system w/ high flow cat, Silverline resonator, Dynomax Superturbo muffler (exhaust fabbed by Mervine Bros Exhaust in Shillington, PA)
-O.E.M. clutch reservoir bracket
-Carbon fiber wrapped master cylinder/distro block bracket
-LS Sport bumpers and side skirts
-00-02 trunk and tails, shaved keyhole, wingless
-Rolled fenders
-Side and quarter windows tinted, never got around to tinting rear window
-Trunk mounted battery
-Sport Edition 16" wheels painted bronze
-Riken Raptor tires, need to check on tread depth
-Tein SS coilovers
-Eibach front and rear sway bars
-eBay strut bars
-R1 Concepts drilled and slotted rotors (used less than 200 miles)
-Hawk HPS pads (used less than 200 miles)
-Rear drums and shoes are about 18 months old
-Interior dyed satin black
-Upper dash pad wrapped in Lexus Black leather
-Seats dyed black
-Black leather/carbon fiber vinyl shift and e-brake boots
-Carbon fiber mirror sail covers
-3 gauge dash bezel (in place of center vents)
-AEM digital wideband
-AEM digital boost gauge
-cheapo volt gauge
-B&M short throw shifter
-00+ Sunfire instrument cluster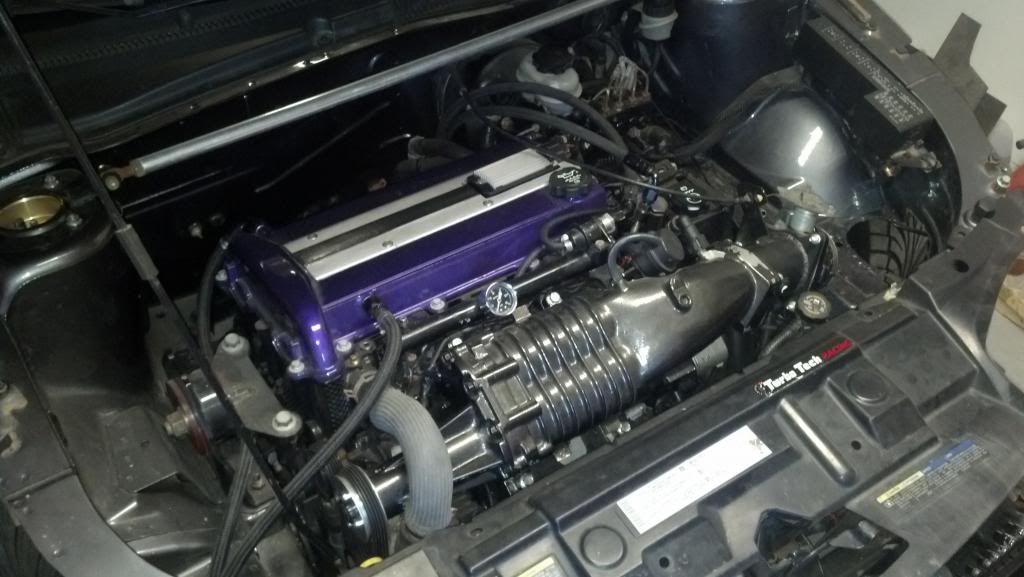 I
think
those are all the mods, but I feel like I'm forgetting something. I'll post back ASAP if I did. I never had the car on a dyno, but dig around, there are plenty of guys with similar setups/mods to compare numbers too. I can say a few local guys, tuned by the same person, put down in the 230hp neighborhood on a 3.1 pulley.
I'd like to get $5,000 obo for the car as is, I also have a ton of parts that never made it to the car (GMX sides and rear, brickyard spoiler, aluminum a-arms, methanol kit, etc just name a few, as well as alot of stock parts and such)...if interested I could do a packaged deal for $6,000 and send along every last j-body part I have sitting in my basement/garage/shed.
Located in Leesport, PA 19533. I'm about an hour from Philadelphia, Harrisburg, and Allentown. PM is the best way to contact me quickly.
NOT looking to part out just yet...