OK people, I've got a ton of stuff I'm looking to unload. My garage has been piled too long, and I'm having a hard time working on the car with it.
I've got it listed in the classified, but I wanted to post it up in the NE forum so more local people will see it. Here's what I've got:
1 pair of front HP Blues brand new in the box, never installed. $250 shipped
1 pair of brand new strut mounts (basic factory replacement). $50 shipped
Used Sprint springs in good condition. $150 shipped
1 Prothane lower engine mount (dogbone) like new. Less than 100 miles on it. $50 shipped
1 Prothane upper engine mount insert. Like new. Maybe 1500 miles on it. $25 shipped
03+ LS Sport side skirts, arrival blue, fit sedan. A few tabs are twisted and disconnected. I am actually going to fix them if I have the chance, but I'll take $75 asis. The tabs can be plastic welded back together pretty easy.
95-99 Cavalier center console, tan/charcoal, with non-power window insert, no shifter insert. VG condition--$50
94-98 Grand Am 3100 upper engine Y bracket (that goes on the engine) and my custom T-bracket to mount it in a J-body using the factory frame rail--$100
I also have a few of my original lower mounts for swapping a V6. The mounting holes don't line up quite right on the engine. They can be modded to fit (I've sold a bunch of them modded for this). I'll let these go for $35 shipped (US) or $60 shipped (Canada). I just don't have the time to mod them at this point.
95 rear trailing arm, stripped of hubs & brakes. VG condition. Great for refinishing, installing new bushings, disc brake conversion--$50
Pair of N-body aluminum knuckles. Dirty, but in great shape--$50
00+ 3100/3400 heads...includes rockers and covers--$50
00+ 3100/3400 lower intake manifold--$25
95-99 OEM headlights...VG condition--$25
95 2.2 longblock...ran solid when removed with just over 100K miles on it--$25
95-02 Carbon By Design fiberglass Turbosport hood.
Never sanded, painted, or driven with. I installed it for fitment, and it's been safely tucked up in the eves of my garage since--$350
Last, I have custom made by Dakota Digital a VFD3-ORIG6 digital cluster. The current cost to have this done is around $1200. It wires like any set of aftermarket gauges: direct inputs to the control module from each sending unit. It is NOT a plug-and-play unit.
The display is installed entirely in the factory gauge cluster housing, behind the factory clear lense. It looks very OEM once installed. The control module is a small box a little smaller than an engine control module, connected to the display via ribon wire. It can be placed anywhere in/around/under the dash. The ribbon cable is a few feet long, giving you a lot of flexibility.
It has tach, speedo, volt meter, fuel gauge, coolant temp, and oil pressure. It also has odometer and trip odometer, turn signals, high beam indicator, automatic transmission gear indicator (reads on odometer display when shifted), check engine light, brake, cruise control. It has an automatic dimming mode for when lights are turned on. The mileage on it is currently zero, but it can be sent to Dakota Digital to have the mileage set to your current mileage.
Below is a picture of it the day I first tested it in my car. It is calibrated for the 4000 ppm speed signal from the factory ECM on a J-body, but can be adjusted very easily for different tire sizes (regearing the J-body transmission does not affect the VSS output).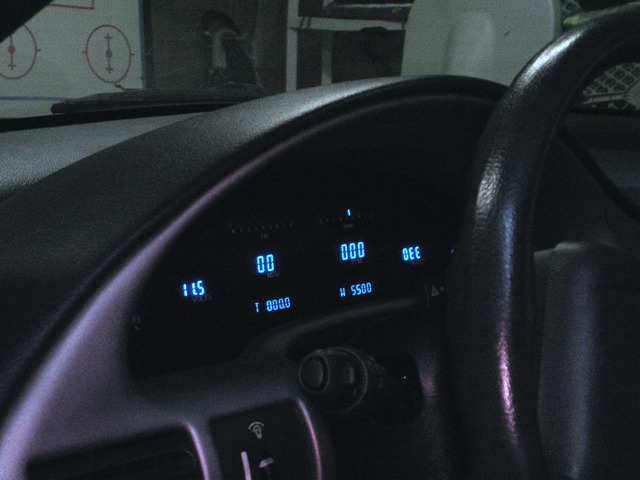 $800
I would like to see this go to someone who is meticulous about their vehicles. I don't let this go lightly, but I'm going in another direction with my car, and this doesn't fit in with my plans anymore. I have been hesitant to let it go, because of it's unique nature, but to have it simply sitting on my shelf doesn't do it justice, either.
Shipping on buyer's dime. I prefer local pick up, because of the delicate nature, but I will pack it extremely well if it needs to be shipped
I've got piles of various parts in milk crates that I haven't even gone through...let me know if there is anything you're looking for. I've been litterally just piling the parts I took off of my car as I've been building it. I've also got parts that I picked up more than I needed, with the ideas of experimenting with, and never touched.
Edited 2 time(s). Last edited Friday, January 17, 2014 7:56 AM