I don't know if people haven't checked the mods on this car, but someone should buy it if for no other reason than to save the parts. He says he's going to scrap it with all the parts on it if it doesn' sell soon.
1997 Z24
From profile:
Quote:

Body Style: Coupe
Color: Black
Engine: 2.4L Twin Cam
Transmission: Manual
Interior: grey
Purchase Date: July/05
Purchased From: Lakewood Auto Exchange


Manufacturer Options

•a/c(deleted)
•cruise (deleted)
•sunroof
•power windows
•power locks
•am/fm/cd
•5 speed


MODIFICATIONS

Engine:
•16v QUAD4 dohc IDI Cover painted gloss black/ GM Corporate Blue with polished fins
•2200 coil swap with MSD interface blocks
•eBay intake
•Griffin all alluminum rad
•Compressor Works Torqflow 16" slim fan
•OBX silicone radiator hose kit(black)
•TTR upper engine mount(black with red bushing)
•TTR billet aluminum lower engine mount(black with red bushings)
•TTR manual trans mount inserts(red)
•Venom aluminum intake manifold (anodized blue)
•2001 bottom end (GM Corp. Blue) rebuilt with:
•4 brand new rods from GM
•reground crank with matching bearings
•new rings
•balance shafts deleted with:
•new 2.3 oil pump crank gear and oil pickup
•Miller Performance modified oil pan for 2.3 oil pump swap (black)
•96-98 head rebuilt professionally with:
•TTR (SI) stainless steel valves
•TTR (SI) bronze valve guides
•NEW from GM LD9 keepers retainers and valve springs
•"Secret" intake cam 200 degrees @ .050" with .360" lift
•new Clevite 33mm lifters
•NEW '93 2.3 HO Melling exhaust cam 212 degrees @ .050" with .410" lift
•'90 2.3 1st design exhaust cam tower
•new Sealed Power 35mm lifters
•Exedy Clutch kit
•Stillen 11lb Aluminum Flywheel
•-MD- aluminum crank pulley
•ARP flywheel and pressure plate bolts
•GM A/C Delete Pulley
•removed entire A/C system with exception of evap core behind dash
•deleted cruise control
•Iperformance 4-2-1 Header with Magnaflow 2.5" High Flow Cat- in Tri-Coat ceramic coated finish
•Iperformance 2.5" cat-back with a single Magnaflow muffler
•Racetronix W1 fuel pump
•-MD-'s FPR delete
•Aeromotive AFPR
•steel braided fuel return lines in engine bay


Suspension/Wheels/Brakes:

•Addco 1" Front Sway Bar (black)
•Progress 22mm Rear Sway Bar(gunmetal)
•Eibach Sportline springs
•Tokicko D-Spec Adjustable Struts
•NEW Vert Front Strut Tower Bar w/1 Firewall mount
•OEM Fender Braces
•OEM Solid Rear Strut Tower Bar
•OEM Lower Rear Tie Bar painted flat black
•OEM Triangulated Trunk Brace (GM Corporate Blue)
•TTR Lower Front K-Brace(red)
•Wilwood front big brake kit
•Wilwood front stainless braided brake lines
•Black spline drive Lug Nuts
•black DRAG DR-17 17x7 wheels with 225/45/17 Hankook Ventus RS-3's for summer


Interior:

•B&M Short Throw Shifter
•Clear HVAC knobs
•ProPod A-Pillar triple Gauge pods with:
•AEM wideband gauge (no sensor)
•Autometer cobalt series oil pressure gauge
•Garrett Boost/vac gauge
•Autometer cobalt series fuel pressure gauge where the factory power outlet should be
•relocated power outlet into center console


Exterior:

•96-99 Toyota Cavalier tails
•VIS OEM carbon fiber hood(summer)
•amber bumper signals
•8" factory style short antenna
•PIAA 9006 Super Plasma GT-X low beam bulbs
•painted drums flat black

The highlighted items alone are worth more than he's asking. It would be a shame to see them get scrapped.
If the OP sees this thread, GLWS. I hope this helps.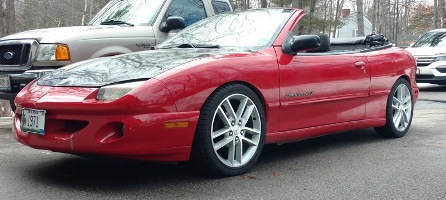 I would buy it if I could somehow get it shipped to Indianapolis, has a lot of good parts, hate to see it go to waste.

REALLY REALLY thinking about this.
I tried to get him to part it out awhile ago with no luck. buy it up mike!
If it wasn't so far, I'd do it, but it probably doubles the price to get it to me.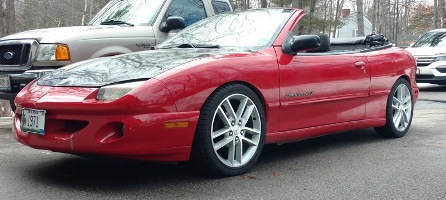 Davis Brown bought this..before I could make arrangements.