Looking for a 99 2.4 transmission. Mine I though I got fixed got everything hooked back up and started the car today and it started leaking fluid agian and still not engaging. I'm thinking I either have a crack on the inside of the bell housing or my spine is broke or not properly setting and is allowing fluid to leak past when it is in motion. If anyone has a 2.4 transmission or knows of some places I can check out Please let me know. I know of car-parts.com but there isn't anything in my area at a decent price. Thanks in advance
try Harry's U Pull it. or Kress thats across the street in Hazleton
http://www.wegotused.com/

Im a Xbox 360 fanboy...and damn proud of it!!
I think I have been down there back when they had that $1 a part thing a year ago. and I couldn't find a 2.4 to save my rear. I found a bunch of 2.2 and 2200. But of course at the time i didn't know about the other cars that match up. What is the cost down there? I think it is like 2 hrs away from me. Don't remember entirely
Just checked there special's 35 bucks for tranny's that is if I can find it. Scary to think I've walked that entire yard from end to end looking for parts for the cav. as well as a dodge stealth/3000gt and rims for another guy. that sucked not to mention getting out of work in the morning and heading down and working agian that night. Wouldn't mind doing it agian tho. Just wish I could have gotten more stuff. maybe this year.
well like i said. contact Kress across the street. they deal with late model parts and will more than likley have what you want

Im a Xbox 360 fanboy...and damn proud of it!!
If you're interested in re-building I have two blown transmissions in my garage. One has no spider gears, the other I'm not sure what the problem is. I was planning on replacing the whole diff in the one with no spider gears and then putting it onto my Z, so if you can wait I'll eventually have a working used one that will need a home or, like I said, a blown one you could have.

I too need a 5 speed 2.4
Someone get me the number to that yard!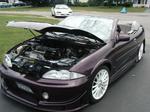 http://members.cardomain.com/vertz24
1998 Z24 Convertible
does this harrys place have alot of hondas?

2007 GM Tuner Bash...HELL YEA
PA,MD,NJ,DE,NY and all states north caravan
They have over 10,000 Cars. basically you need to go and walk the 10,000 cars in hopes of finding what you need. : / I called them up hoping they may have some sorta idea of inventory but they didn't the msg was like if your calling for inventory we have over 10,000 cars and everything is priced under $100. The most expensive part is a motor at 89.95 or something like that. I called the other guy and he didn't have any 2.4 available. But Could get me one for $900 and I don't think that was shipped to me door.

Has anyone ever been to that place, it looks awesome!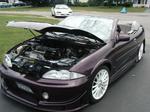 http://members.cardomain.com/vertz24
1998 Z24 Convertible
i was at the hazleton one today....not all its cracked up to be....did see a few HO motors though

2007 GM Tuner Bash...HELL YEA
PA,MD,NJ,DE,NY and all states north caravan