Almost had me fooled. The two flaws I found are the Cimarron bumper moldings in front and the Cavalier moldings on the rest of the car and the Cavalier door panels.. Also has a 4 Dr Cimarron title. Pretty good job on the conversion.
http://cgi.ebay.com/ebaymotors/ws/eBayISAPI.dll?ViewItem&item=290958672371&fromMakeTrack=true&ssPageName=VIP:watchlink:top:en
I don't remember the Cimmeron ever having the Z-24 rear bumper and side pods either...

Seems to me to be one of the nicer Chevy 'Vert / Cimirron conversions out there - Gold Wheels not withstanding....LoL
I just don't understand the need to faux the sudo 2 door Caddy bodystyle that simply doesn't exhist. Go ahead have a lovely time creating these Gems and admit what you have. Enjoy it! Show it off. But to try and pass this off as a genuine product is just so wrong. Just for openers to use the Caddy title can be disasterious!! Should a State Trooper catch you at a Checkpoint Chicky - and there you sit in a 2 Door Convertible presenting a Registration to a 4 Door Sedan??? I don't think it is going to be a good day.
One day I'd enjoy seeing that true origional Caddy 4 door wrapped with a Soft Top.
I'm sure some wag out there has put in the time and money to create one with everything else we've witnessed so far.

.
Well I'll be damn somebody actually went and done it. $16,000 though


.

You'd think for $16 LARGE they would have least attempted to clean up the engine compartment...

~ Mike ~
I would say about $13,500 over priced. Maybe more considering it really does not have a title. Plus I could not drive it because my thumb on my right hand is on the wrong side.

I agree .....WAY over priced, needs a wheel change, reinstall the shifter handle correctly since backwards is not becoming, would be better looking as a Z24 clone if not a real one rather than a Caddy, and with a sketchy title.....smells like sour milk to me, something that would leave a bad taste in a new owners mouth.
I bet the car was a vin swap. I bet you it was a cavalier or other 2 door vert and someone had a wrecked caddy and swapped everything to the cavalier and sold it with the 4 door vin and title on it. I wouldn't even bother looking at it. It is too perfect to be a 4 door to convertible 2 door to be done at a shop and why someone would pay to have it done when you could buy a cavalier convertible and swap everything over is just stupid.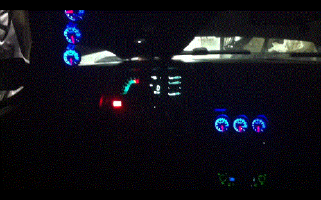 On the inside my car looks like a fighter jet.
I ask rhetorically, "What in hell is this guy smoking that he thinks he can get 16K for that ersatz Caddy?" It's obviously a Cavalier! Did GM make any 2 door Cimmaron's and if so, did American Sun Roof really convert any of them to convertibles?

This has all of the looks and feel of a P.T. Barnum deal, you know, "There's a sucker born every minute". What idiot would pay 16K for that? Hell, I would venture to say that many of us who own Cavalier Convertibles that ours are cleaner and better kept than this car.

Well, I'm off today to go to a car show very close to Woodward Avenue. I've got my parking pass for Friday and Saturday and I along with fellow J-Body guy Tom Stroup will be cruising Woodward Avenue this weekend. Since I've gotten the power seats installed, I will ride in comfort for the entire route from just north of Detroit to Pontiac and back! I wish you fellow J-Body guys could come and see the many cars. It's a great time! We're supposed to have great weather for the weekend, so I'll probably get some sun, 'cause I'm cruisin' with the top down!

Seen a cimarron convertible on Cheaters today. While eating Lupper(lunch-supper) wife and I watched this show called cheaters and in the parking lot of one guy they were following there was a Cavalier convertible that had Cimarron front and rear fascia. Video was shot in the grainy nightvision so I couldn't tell if it was this same one though but it did have a black convertible top. lol the things you see on tv

.