Now that the heater core is wrapped up, I need to move on to my driver side CV axle replacement. My passenger side one is fine but leaking at the shaft seal. My driver side one is leaking at both boots and the shaft seal.
I have a few qestions for those of you that have done this before.
1) I am having a problem finding the right shaft seal for the 4 speed transmission - know where to source one?
2) what do you use to hold the axle while you are installing it?
3) can I do it without pulling the wheel bearing or strut bolts?
Not sure of timing on this but it is next on the list, before the molding work, ac reinstall, and top replacement...
I have yet to touch mine.I however have both new axles plus Timken shaft seals part #3543 (I believe I got these at auto zone).My car is a four speed as well.I can snap a pic if you like.It is rubber with metal in the center somewhat similar to the originals.As for installing the axle with out me scoping my hub I would think removing the tie rod allows the hub to tilt out like most cars for the space.I would almost bet the strut needs to be unbolted for space,then the hub will tilt out or to one side,then lube the oring with grease.Then pop the axle in the trans and slide the spindle into the hub,and it will poke out the hub and once you hook up the tie rod,run the axle nut by hand then tighten and torque.The axle will bend and twist with ease to insert into the hub.The bearing is pressed into the hub and generally have to be removed by a machine and pressed in.So no bother on the bearing unless it is whiny then you would have to remove the whole hub and take to a machine shop with your new bearing to be removed/installed.The lock ring on the end of the axle going into the trans requires a dab of grease all around this keeps it from moving or popping off when installing.I did my nephews accord in about 45 minutes this was removing the tie rod,unbolt the fork for the strut(different than ours) and did all the steps above in rough description.Make sure you have a torque wrench that can go up to at least 180 ft lbs I have not checked our specs but this is average on the axle nut torque.I am almost certain auto zone should have the seals since they carry Timken! being on when I bought mine last year.Tired a touch after cleaning 3 cars and errands today.
I finally bought it. I am doing the ds first as it is leaking. I had an advance coupon for $50 off if you spend more than $100. My MOPAR needed a starter too so there I went

.
I did both of mine by popping the ball joint and tie rod loose. That gave enough movement to pull the axle out on either side. Mine is an automatic.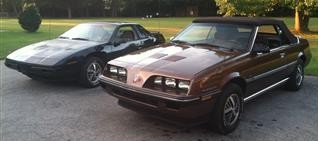 Good deal paul.I also use those coupons when I can it really helps!I soon will be actually working on my car(I can't believe it either).I am steps from starting my work,just have to cut some big tree limbs with my new stihl chainsaw and clean out my mother in laws small out siding building.I will do my rear end work 1st then wait to do the front till my state inspection comes up in jan.I know my front needs a full resto and going to tackle the ball joints,ties and probably a arms bushings all at once.I think my rear work will take wk or two in my spare time since I am going to replace all the brake parts,new whl brgs,and e brake cables and install my rear sway bar.
I got it in the mail

. It is a nice looking part and is the 30mm bolt - not the 29mm like is on my car now. Only downside is it is a made in China part, I guess most of the aftermarket is now

Life has been happening and the car has been resting comfortably in the garage...
I finally got out to advance and grabbed a pair of axle seals. National Oil Seal Part #3543 is a spot on match to the OEM.
Who knows - I may actually start some car projects this weekend

You need to start your project so I can drag my feet maybe a touch on sunny posting updates.Not really I may start on fixing my radio harness back to oem as it was removed back when My sister had a aftermarket installed years ago.Regardless fix radio harness and use a correct adaptor and then remove my shifter and restore that is next.I want list more but,glad you did get some fresh parts and I hope to address my front end this year if I can afford the boat load of parts I need.