Hi All,
I hope this finds everyone well, its been a while since I've been on here. I need to fix that

I learned a little bit about the Walt Disney World 15th Birthday Giveaway prizes of 1986 and 1987...they were Chevy Cavaliers. They gave away a first gen Cavalier once a day
for an entire year,
and also featured them prominently for their Main Street Parades during that time. Here's a blog post I wrote today with some pictures and history about the program if anyone is interested.
http://throwinwrenches.blogspot.com/2013/12/mouse-ears-birthday-cheers-and-cavaliers.html
Let me know what you think, and best wishes for the holidays to my J-body friends.
Top notch write up!! Looks like a lot of work went into this and some good research!
Who knew good ole Blue J had such a storied past

I never dreamed any of my ole Country Boy ideas would pass beyond the hallowed halls of J-Body!
I feel.........quite honored

.
Hi Orlen, I forgot to ask about sharing your antifreeze, I hope its okay.

. I'm glad you saw it though and its still a good idea! Thanks for sharing over the years as well.
I was there in 1986 at Christmastime. I remember the World of Motion, and now I have to go and see if the picture of me in the 1987 GTA Trans Am still exists.

Exxon-Mobil did not sponsor anything in 1986, they were separate companies back then. Exxon sponsored the World of Energy. I remember dinosaurs and a moving floor.

Thanks Wayne, good call on the Exxon fact. I fixed it. I remember the dinosaurs too. I think they closed it after the Valdez incident.

Here is another sweet trip down memory lane - courtesy of Daryl. I've noticed he has penned some really good reading here and need to visit more often!
While many will accuse this of being non J related I trust some will affectionally look at it as a great great grandfather of my venerable old wagon. If we hadn't had the H-Platform we might never have had the J. Certainly I do remember the Monza ushered in the age of the "square" headlights that eventually changed the entire automotive industry and has led to the evolution in front fascasia we know today with all the nearly look-alike cars across the industry. I genuinely appreciate the simplicity and low cost of a busted headlight back in those days (and on my oldie goldies) compared to the expense today. My god don't even think about replacing a modern side view mirror either. New ones that are heated, are power adjusted and have the turn signal lighting in them can set you back $500!!
Also I admit having had a several of H-Bodies myself , that even many more will point blatently and sneer "Junk" , but alas these highly flawed machines had a style and chrisma all their own. Much of what those flowing lines and bodystyles are what the 70's were all about. I might not miss the breakdowns, but man what a sweet wagon those 2 door Vegas and Pintos used to be.....
Thanks for some sweet memories Daryl!!

http://throwinwrenches.blogspot.com/2013/12/slightly-kooler-than-kammback-pontiac.html
.
Thanks for the comments Orlen, I'm glad you enjoyed the post. I know a guy in Florida that recently purchased a Monza Mirage and its a low-mileage original. I can assure you the H-body cars weren't junk, they were an experiment. I'd like to add a Cosworth Vega to my collection one day, and perhaps a V-8 Starfire or Monza Spider if one pops up. I also like the Buick "Nighthawk" version of the SkyHawk. You simply don't see any of these cars anymore and I'm grateful that someone out there still loves 'em.
I also think the Monza and the aero nose on the early Cavalier hatchbacks are very similar. You can see the family resemblance.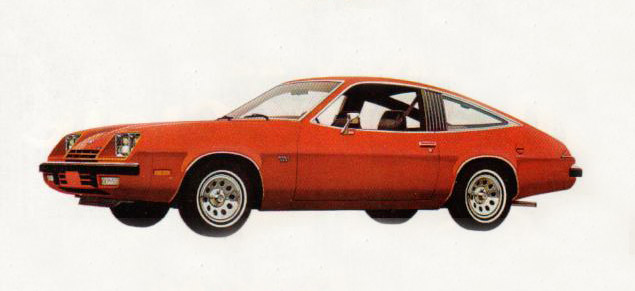 Well now back in 12 at my favorite pull a part they had a chev Monza spider! It had the cool decals and yes a V8 4speed and I did sit inside it.It was rough and appeared to have sat a longggg time with mildew and faded etc.I took some pics but,I do not think I saved any on my computer.It was a treat to see a rare ride like that and while dirty and smelly I had my coveralls on and could have cared less just thinking wow this was mint back in the day.Just my share of the past when I hit the junkyards a lot when parts I want were well more plentiful.I just checked last nite and nothing worthy in my yr range for going on the j side mostly 89-up.I may have to dig harder on some locations that are not ravaged by the big crusho machine(yes crusho) it means crush oh oh NO.My humor
Ron- I hear that. I had a similar experience years ago in Indiana with a Monza hatch. I saved a few parts off of it and sold them on eBay to keep others alive and make a little cabbage. But the old stuff doesn't exist anymore. Yards immediately crush the old stuff in the "crusho"

machine and make way for late model stuff that people will use. Its sad. I wish I could save them all, too.
Ron, thanks for the tech stuff this year. Its always a pleasure reading your writeups and good to see you're helping the next generation of J owners out!
Have a great new year everybody.
I certainly try to help where I can.I am working on a new radio and speakers for my nephews 02 civic and got it all done aside from the wrong install kit for proper fit(errrr).Guess I will hopefully finish the kit if I can find one thurs since the speakers were real pain (had to remove the rear seat(fold down,but bottom had to come out) and then the entire rear deck area.I won't go in full detail but about 4hrs to do speakers,wire up radio(had harness ready with protective slide clips terminals and about 30 minutes).It does work and sounds super just to get the right kit for the head to fit in the big hole in the dash where it goes now.I will be doing more action this year on my own ride finally and might do a video on the gas tank since my gas sending unit is all loco so new unit plus going ahead and doing my fuel pump while there since I did the 2nd one back in 98.Just some ideas I have and brake video for the drums and wheel bearing rear as well.