Hey all,
My name is Jason, I just scooped my first J-Body. In the mad hunt for parts and upgrades I came across this place. I scooped this 84 from my aunt for $500. It was originally my grandpa's and only has 59,000 original miles on it.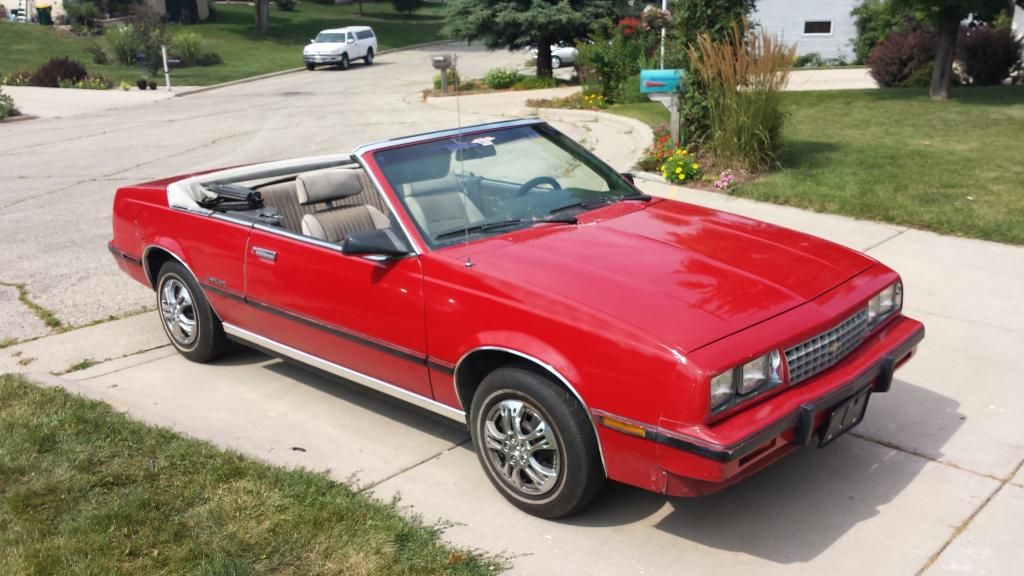 It was a mess when I grabbed it, this is after a day of cleaning, wahsing buffing and waxing.
I noticed alot of you guys are purists which is really cool, but sadly I am not one of those

But I do like to make mods that make the car appear to be factory, by using newer parts and parts from other models. I am planning on upgrading (updating) as much as I can, and making several trips to the local salvage yards. Off the top, it needs a tune up, a top, muffler and a couple power window motors. I also would like to update the suspension, and try the neon disc swap. I would also like to z24 the thing as much as I can. so i am going to be on the hunt for the hood and skirts (wish me luck) I am also thinking of cutting up and modding some 2nd gen skirts, but we will see. I used to be a body guy, so I am looking forward to getting going on that. The only requirement for me is it has to stay red to honor grandpa.
Other than that I plan on picking your brains for links to parts, interchangeability between generations and so on. I am reading thru all the threads a few at a time, so we will see how far I get there

Hello again, and I look forward to meeting you.
Welcome Aboard Jason!
Very Nice 1st Gen 'Vert you have!!
My advice is simply enjoy your car - if you ain't having a good time what is the point? Make it your own and reflect your own tastes. The idea here is saving one from the the trip to China! These days it is just good to have one not full of holes and running well!! Since yours is a ragtop it is crucial you get under the carpet and make a real good inspection of the floorboards and make repairs.....but I'm sure you know that already Hahaa...
Yes parts are hard to come by and getting ever more scarce. Keep an eye open in the local salvage yards as well as Craigslist and Ebay. Many different factory wheels will swap on your 1st gen including Celebritys and Berettas. Given the right tires you can go up to 16" but that is a bit radical. If you have a manual , be it 4 or 5 speed - cherish it!! If you have the auto and are thinking of going manual the parts to swap are hard to source and gonna cost!
Drivetrains are very durable, simple and easy to work on. Parts that aren't so hard to come by are cheap. Compare EBAy prices to local auto stores - many times you can buy off EBAy cheaper.
Ron Love is EXCELLENT for parts and advice. 84Conv has a ton of "Vert Experience. Lots and Lots of posts on here sharing problems - solutions and many, many mods . Makes for great reading in the sour months when there isn't so much to
do.
Enjoy your J!! If you are anything like myself and some others on here you may just find they are a bit like Lays 'Tater Chips.....
.
hello jason looks like a nice ride you have there. there is not a lot of info on these cars on the web and no aftermarket to speak of so you will find this site very usefull. finding parts for a 1st gen is a challenge i see that you are from WI i am on the east side of the state and have yet to find a single 1st gen j-body of any kind in a salvage yard. if you find a yard or any other parts source please share the info. the 1st geners is a small group but very helpfull. we also love pics so the more the better. welcome and good luck with your resto!

Welcome to group of 1st gen junkies!!! I must say I am a soley stock guy to retain my car's oem build.I also source parts a lot and very knowledgeable on our gen's for problematic issues and or general.You might have noticed my thread on going to the junkyards and the items I have found,sold and well kept for myself.Just keep in mind some things are clearly not made any more by anybody so be wise in the mod dept before you do something you might regret.I won't ramble any further as I have been kind of busy today reviving my other nephews 2002 Honda civic to keep it in my terms minty fresh and in good working order.Again any ?s just ask