Earlier this year, I finally got a remote starter!
But I've had more pressing matters to deal with and this just wasn't at the top of my to-do list. It kind of is now...
Looks like I have everything figured out, but it just still doesn't make total sense to me. Here is the install guide from Viper:
and here is a wiring list for the Hawk I somehow managed to find online:
If I'm right about this, I will be taking two wires from the Heavy Gauge Relay (as I've marked C on the install guide), those wires being #1 & #3 from that 6-pin connector (I've also marked C), and splicing them into the 12 volt constant (#6 on the wiring list). Now the wires from the starter each have a 30a fuse on them.
This is some major power, and I have a feeling I need more than electrical tape or wire nuts to keep it all together without any arcing or starting any fires.
It's safe to say I'm a little scared about doing this, but want to get it done soon as the nasty weather is coming.
I've been PM-ing with Rob on this, but I can't seem to add pics to a PM right now. He had the great spot of over the glovebox for the main unit.
Anyone else care to chime in?
Idk the do's and don'ts but when doing any electrical work like that wire nuts are NOT recommended.I would splice them into the wires existing and heat shrink then use some electrical tape to double insulate against any arking.I would not tie them in too close to the actual terminal input boxes just give it room away for any issues like checks later for service if need be.I have done electrical fixes and always heat shrink and tape and use conduit or loom from any chaffing metal or brackets etc.
Got most of it done, what a pain splicing into some of the wires as there really isn't any slack from the factory.

I have two wires left to go, I have the main box of the unit under the glove box. The remaining wires need to go through the firewall, one is a tach wire to hook up near the distributor and the other is a safety switch to let the system know when the hood is open.

I just couldn't seem to find a place to go through the firewall. I remember back in the early 90s, I had a friend that hooked up stereos and he always found a place to go through because he was constantly hooking up a hot set up for things, but I couldn't seem to find a place to string these wires.

If nothing else, I'm guessing when I remove the fenders I'll either find something, or put it through with the power antenna I'll have to install with the new fenders.

You may be able to go out through the bulk head connector for the ecu on the passenger side near the cowl. Its epoxied in. You could just drill a new hole and use a rubber grommet.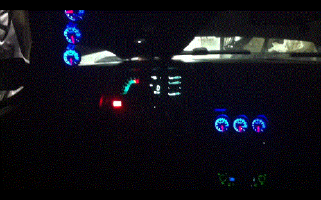 On the inside my car looks like a fighter jet.
You may need to drill a new hole like Rob recommended. You can get a rubber grommet at a hardware store and drill the correct size hole to match whatever size you get. Or just extend the wire and tuck it up nice under the dash and use one of the access holes near the I/C or steering wheel. You may need to "push" a screwdriver into the existing grommet to get enough space for the new wire to slide through. I don't know exactly where right now because my car is in storage. Just be careful not to damage the existing wire or cable.
If it has the Virtual Tach like my DEI unit, it will work with our cars. If not, just drill a hole or you can run it through where the wiring harness comes into the engine compartment from the passenger compartment. It's really tight but it will fit. Also, dunno if you've gotten to the doors yet but if it's like mine you will need to wire up some relays as it is reverse polarity unlock.